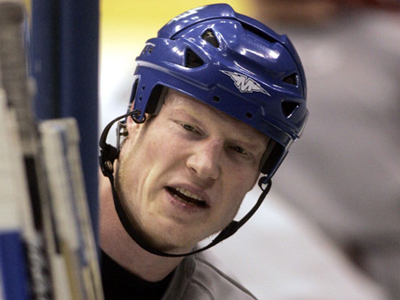 Whitby - Sep. 5, 2011 - I once had the opportunity to share some time in the sin bin with Wade Belak. Truth be told, he was a rookie defenseman with the Cornwall Aces in 1995, while I was merely an insignificant penalty box door operator at the Civic Complex.

Since that initial meeting, Wade Belak had always been one hockey player that I loved to follow. The one thing I do remember was being in awe of how well a skater he was. For a man that carried 223lbs on a 6'5" frame, his skating stride was smooth and effortless whether it was in forward or in reverse.

There have been many articles and sports columns written on Wade Belak since his untimely and tragic death last Wednesday.

I have struggled all week with trying to decide if I should comment on the circumstances of his passing or turn my focus to other Canadiens'-related topics. I have chosen neither. While I am not academically schooled in the field of psychology nor am I an expert on the effects of fighting in professional sports, I feel very strongly that the wrong message is being sent. We cannot link the deaths of Rick Rypien, Derek Boogaard and now, Wade Belak, together. Their deaths have nothing to do with fighting.

I have decided to honour Wade for the professionalism and dedication he showed to his teammates, his coaches, his opponents, and to the men, women and children who loved everything Wade stood for in the hockey community. Wade Belak was many things to many people. He was a devoted father and husband, a brother, a son, a teammate, and also a hockey hero to all that knew him.

Wade had an infectious smile, not to mention, sense of humour and seemed to be one of those 'gentle giants' that always had your back in any situation. He was a respected athlete. From one redhead to another, Wade was an imposing specimen that I will never forget. I have never before witnessed a professional hockey player smile so much while playing a game that many professional hockey players take for granted, as I have over the years with Wade Belak.

Belak was born on July 3, 1976 (35 years old) in Saskatoon, Saskatchewan. In 1994, he was drafted 12th overall in the NHL entry draft by the Quebec Nordiques from the Saskatoon Blades of the WHL. Wade could do what very few NHL'ers could do and that was play multiple positions for his team. Wade Belak was drafted by the Nordiques as a defenseman, but he also played as a forward when need be.

For anyone that has ever played the game, this positional change is never an easy transition for even the most gifted athlete. Belak's smooth skating strides allowed him to play at either end of the rink without looking out of place. Watching Wade skate was akin to poetry in motion, hence the nod to appear on CBC television this fall skating with Battle of the Blades.

Not only was Wade Belak a fearless hockey player, but few people knew he was also a fully licensed volunteer firefighter. Wade was active in the Nashville community as he regularly visited schools and hospitals.

Yesterday, on a rainy and wet afternoon in Nashville, Wade Belak was laid to rest by his wife Jennifer, daughters Andie and Alex and by hundreds of other family and friends. He will always be remembered by this writer as one redhead who was never too shy to crack a smile, to tell a self-deprecating joke…to be a 'regular guy'.

To further express the humanity of Wade Belak, take a few minutes to watch this segment entitled "Wade a Minute".




Jody Vance, former sports anchor for Rogers Sportsnetnews was able to amplify the beautiful larger-than-life personality of Wade Belak.

Rest in Peace Wade. God speed.