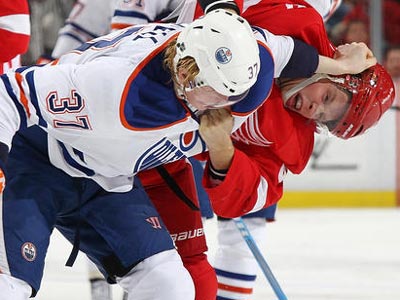 Edmonton - Nov. 12, 2011 - For the second consecutive night, the Edmonton Oilers found themselves playing a superior opponent that was willing to do whatever was necessary to earn two points and for the second straight night, the Oilers were unable to match their opponents intensity and will to win. Detroit were in complete control, start to finish, and were well deserving of the 3-0 final score. If not for the stellar play of goaltender Nikolai Khabibulin, Edmonton would have been run right out of Joe Louis Arena. After winning six in a row, the young Oilers have now lost three of their last four and have been out played by a wide margin in all four games.

The Wings were the aggressor from the drop of the puck and there was nothing Edmonton could do to slow them down. It was evident that the Detroit game plan was to pressure the visitors at every turn in hopes of forcing turnovers and putting the Oilers on their heels. The game plan worked to perfection, as the home side were regularly buzzing around Khabibulin, either creating scoring chances or forcing Edmonton into taking penalties. Detroit's first two goals, being perfect examples.

After gaining possession of the puck down low, Tom Gilbert moved the puck around the boards and not one of Anton Lander, Magnus Paajarvi or Jeff Petry were ready to react and next thing you know, the Wings are up 1-0. Both Lander and Petry seemed surprised that Gilbert moved the puck along the boards, which is confusing...seeing as he was on his backhand and had no other options at his disposal. Second, Patrick Eaves raced in from the point to intercept the pass along the boards and Paajarvi decided to remain cemented to the ice and watch Eaves grab the puck. That simply can't happen and especially not to a guy who has sat the last two games in the press box. Sure Detroit got lucky, in that Eaves pass ricocheted off Petry's skate right to Drew Miller in the slot but teams that work hard get those types of breaks. Goal number two was no better.

Theo Peckham decided to throw. yet another, bonehead pass into the middle of the ice, when all he had to do was move the puck up the boards to get it out of the zone. Instead, the puck was picked off and in the blink of an eye the Oilers were down 2-0, after Niklas Kronwall blew an absolute missile past the Edmonton netminder. Peckahm was being pressured in the corner and instead of making the simple play, he tries to be cute and it cost Edmonton. You can not continue to give up the puck in those situations and expect your goalie to bail you out every time. At some point, you will get burned and Peckham does not seem to be able to make that connection.

The Good

While last night marked the first time that Khabibulin gave up three goals in game, if not for him, this would have been a rout of monumental proportions. While the Wings fired 30 shots at the Edmonton goaltender, it seemed as though, at least, two thirds of them were quality scoring chances. He did all he could to give his team a chance to get back into the game. After ten games, Khabby now sits with a record of 7-1-2 with a 1.18 GAA and a .957 SV%.


Lennart Petrell game to the aid of Paajarvi, after the youngster was levelled by Justin Abdelkader early in the second period. Petrell immediately went at Abdeilkader and dropped the gloves to defend a teammate. For some unknown reason, the feisty winger received a double minor for instigating the fight but it was well worth it. Hopefully Ben Eager took notice of what Petrell did from his spot in the press box...as that's his job and he has yet to do it since becoming an Oiler. The penalty kill rebounded nicely, after a tough night in Boston. They killed all five Red Wing power plays, including the four minute double-minor to Petrell. Granted Khabibulin made two terrific stops off Zetterberg and Franzen during that kill but last time I checked, your goaltender is part of the penalty kill.

The Bad
For the fourth consecutive game, this team has been outworked and it shows in the results. They have lost three of four and while they have yet to quit at any point during this season, their effort is starting to become an issue. This team has to play as close to a 60 minute game as possible on a nightly basis and that simplay hasn't happened of late. If they want to continue winning games, they have to be willing to out work the oppostion.


We are now at the point that I have to question the thought process of this coaching staff. Their unwilligness to change up the line combinations is bordering on stupidity. Outside of Ryan Smyth and Ryan Nugent-Hopkins, no one else has shown any consistency in being able to score on this road trip so it is rather confusing that they have made no changes. As a coach, if things aren't working, it is your job to change things up and find something that will work and this group seems unwilling to do so. I am sure I wasn't the only one that noticed, the best shifts the top two lines had last night was when RNH was with Hall and Hemsky while Horcoff skated with Eberle and Smyth. For some reason, they went right back to the Smyth-Horcoff-Hemsky line and they were promptly scored on to make it 3-0. I would rather see Horcoff with Hall and Hemsky and the other three make up the second line but that's just my preference. Regardless, the time has come to mix up the top six and get a better balance while taking some of the pressure off the kids. Obviously, pressure will still be there for them to produce but it will no longer be placed on them as a line. Change for the sake of change is never a good idea but sometimes a little tweek can make a world of difference.