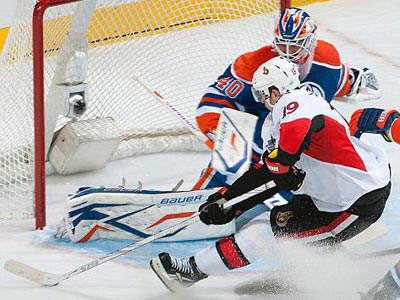 Edmonton - November 18, 2011 - The Edmonton Oilers took one of the leagues best home records, at 6-1-1, into last nights game against the Ottawa Senators. Unfortunately, the Edmonton Oiler team that showed up at Rexall Place resembled the club that has played in this rink over the last two seasons. They simply failed to compete and handed the visiting Senators two of the easiest points they will earn this season. The Sens left town with a 5-2 victory, in a game that saw the leagues best netminder, Nikolai Khabibulin, chased from the Edmonton net after only twenty minutes of play.

The Oilers came out fast and were in total control of the game, thru the first seven minutes, but were unable to sneak one past Senators netminder Craig Anderson. To make matters worse, they simply started to self destruct by making one poor decision after another and in a blink of an eye, Ottawa was up two goals.

The first one came on a two-on-one break, courtesy of an ill advised pinch from Theo Peckham. The Sens took full advantage, as Colin Greening sniped his fifth of the season, on Ottawa's first shot of the game, over theblocker of Nikolai Kahbibulin. It took the visitors all of nine seconds to go up by two, as rookie Kaspars Daugavins was somehow allowed to skate into the Oilers zone, untouched, and rip a bullet past the veteran goaltenders glove hand. Before the period was out, Milan Michalek snapped his twelve of the season, right off the draw, past a stunned Khabibulin. That was it for the Russian netminder and in came Devan Dubnyk for period number two...things didn't get any better.

The Oilers lone bright spot, came early in the second, when Anton Lander snapped a quick shot over Anderson's shoulder, for his first NHL goal. It came when the Edmonton were down a man and it seemed to momentarily breathe life back into Rexall Place but the home side made sure that didn't last long. Five minutes later Jesse Winchester beat Dubnyk for his first of the season on a breakway. The play was a result of Jordan Eberle blowing a tire near the Sens blueline and sending the visitors to the races. The Oilers and their fans were calling for a penalty but there was nothing there. Peckham, again made matters worse, by stepping up into the play for a reason that only he would know, and hence allowing Winchester to sail in from the red line untouched. After two the score was 4-1 and the shot clock read 11-10 for Edmonton.

The Oilers managed to put another thirteen shots up on the board in the third but were simply going through the motions. The teams exchanged third period markers but the outcome was decided much earlier in the proceedings. The loss leaves Edmonton losers of four straight and five of their last six and the have the pleasure of hosting the red hot Chicago Blackhawks, Saturday night on Hockey Night In Canada...don't be too surprised to see that losing streak climb to five straight.

The Good

Anton Lander was the best Oiler on the ice and by a wide margin. The youngster finally bulged the twine for his first NHL goal and it was a beauty. Actually, the fourth line as a whole played well. Petrell does what he does every night and Ben Eager seemed to be somewhat engaged for a change. They were easily Edmonton's best line on the evening.

The Bad

We shall start in goal where Khabibulin was poor in the first and Dubnyk wasn't much better when he came in. Khabby let in 3 on seven shots and Dubnyk followed that up by allowing 2 on the first five shots he faced. At the best of times, this team needs their goalies on top of their game and with the current condition of the Oilers blueline, they have to be nearly flawless. You would think Dubnyk will get the nod on Saturday against the Blackhawks but it appears as though the goaltenders will have their work cut out for them over the next while.


The defence has fallen apart of late and to make matters worse, injuries have decimated the group. If it wasn't bad enough that they were already without Cam Barker and Ryan Whitney, Andy Sutton took the pre-game skate against Ottawa and tweaked his groin and was unable to go. That left them with five defencemen, which became four when Corey Potter was forced to leave with an ankle injury, which seems to be the injury of choice for Oiler players this season. Edmonton finished up the game with two pairings, Gilbert - Smid and Petry - Peckham. Theo was -3 on the evening and was dreadful all night long while Petry, looked over matched throughout the game. Obviously they both played major minutes because of the injuries but if the pair are unable to get out of their own end against the Sens, what does that say about them? They are not NHL regulars and this organization has to make a trade or two, to shore things up on the backend or this could turn into one lengthy losing streak.


The Smyth -Horcoff - Hemsky line rivaled Peckham for being the worst of a brutal bunch. They started off the game with a few good shifts but were awful the rest of the way. All three continually gave up the puck and both Horcoff and Smyth look like they are already out of gas. Hemsky is a completely different story. The guy looks completely checked out at the moment and it clearly shows in his level of play. He is doing nothing to help this club win, so either find out what the issue is or call it a day and move him along.


The third line continued to accomplish nothing 5-on-5 and makes it next to impossible, for this team to compete, if their top two lines are having a bad night. I am not sure when this coaching staff plans on moving Eric Belanger to the fourth line but until they make that move, this line will continue to be unproductive. Taylor Hall has now gone nine games with out scoring a goal and Jordan Eberle has one in his last seven. The two youngsters are both pressing and Hall is trying to do far too much on his own and his frustration level is apparent to anyone that watches him play on a nightly basis. I've been saying for two weeks, that they need to split that line up 5-on-5 and it becomes more obvious with each passing game. Leave them as a unit on the power play but for the love of god can we not see a Smyth-Nugent-Hopkins-Eberle line and Hall-Gagner-Hemsky, if Sam is ready to go. If he isn't ready to go, then put Horcoff in the middle and have your third line be Jones - Lander - Paarjavi.