Rychel has huge night to power Spits over Saginaw
Windsor - November 15, 2012 - Kerby Rychel had a huge night for the Windsor Spitfires after returning from the Subway Super Series. Rychel had two goals and three assists to lead his team to a 6-1 victory over West Division rivals, the Saginaw Spirit. The win ended a three game Ontario Hockey League losing skid for Windsor.

Rychel who is ranked as a first round NHL Prospect, was clearly the best player on the ice for both teams. With a bit of luck, he could have had two more goals. In the second period, he just missed on a shorthanded break (photo right) and couldn't get his stick on the puck in a goal mouth scramble (photo below).

Derek Schoenmakers opened the scoring close to four minutes into the game on Windsor's first shot on net. Spits centre Brady Vail and Spirit winger Nick Moutrey would trade goals in the first, to give the home team a 2-1 lead after twenty minutes.

The second period belonged to Windsor, out-shooting Saginaw 20-5 and widening their lead to 4-1 on tallies by Nick Ebert and Rychel.

Patrick Sieloff continued to make his presence felt with a huge hit in the second period. Sieloff was immediately challenged by Saginaw's Jacob Ringuette, who was assessed two minutes for instigating, five for fighting and a ten minute misconduct on the play. Sieloff received five minutes for fighting.

The rough stuff continued in the third as Justin Kea from Saginaw was assessed a double minor for hitting from behind on Brandon Devlin. Spits Michael Clarke quickly jumped to the aid of his teammate and like Ringuette earlier - received two minutes for instigating, five for fighting and a ten minute misconduct on the play.

Saginaw starting goaltender Jake Paterson was pulled after the second in favour of Nikita Serebryakov. Vail and Rychel would each record their second goal of the game in the third. Sieloff and Josh Ho Sang each registered two assists on the night.

The three stars were Rychel, Jaroslav Pavelka and Ebert. The announced attendance at the WFCU Centre was 5,220 fans. Windsor outshot Saginaw 40-28 on the night and notched three powerplay goals.

The Spitfires now head out on the road for the balance of the weekend as they play the Barrie Colts on Saturday and the Owen Sound Attack on Sunday.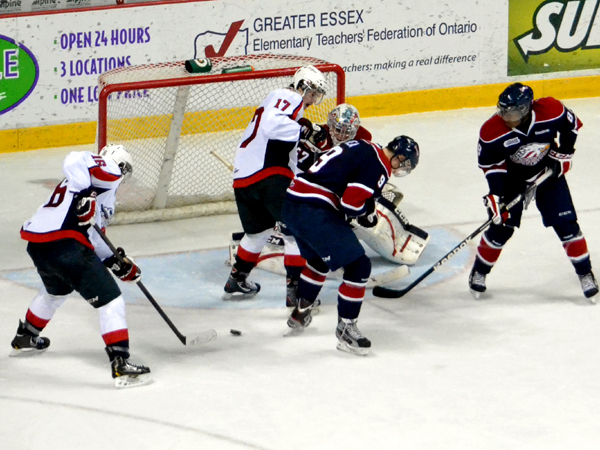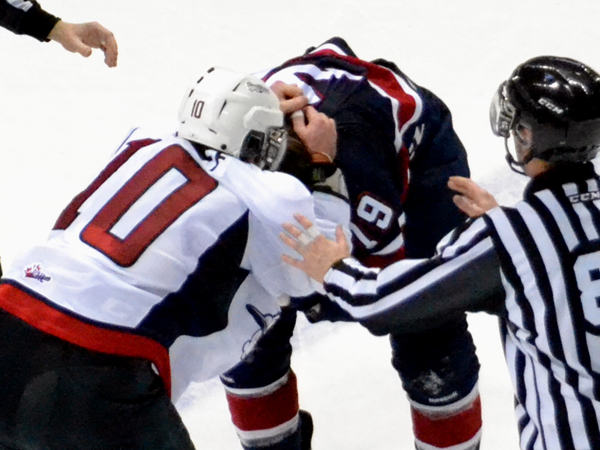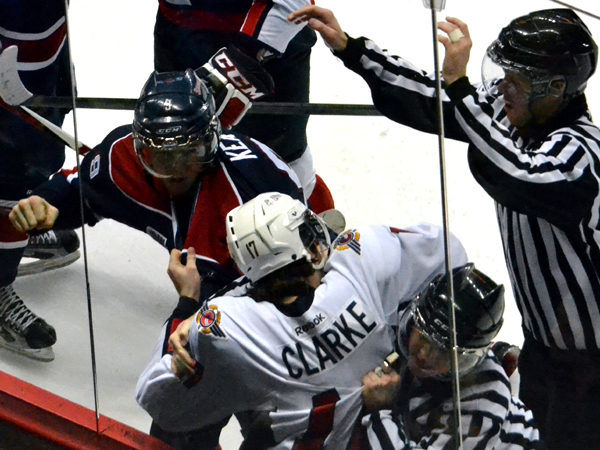 8,374 Stories & Growing Daily...
To date OurHometown.ca has posted a total of 8,374 stories! News, sports, hockey, lifestyle, opinion and more!

Be sure to check out our Contributors and Columnists archives!
Click on Photo or Story Title for more info
OurHometown.ca News Database Last Updated:
Dec. 4, 2020 @ 11:51 AM EST