Trio of Spits invited to USA Hockey Junior Camp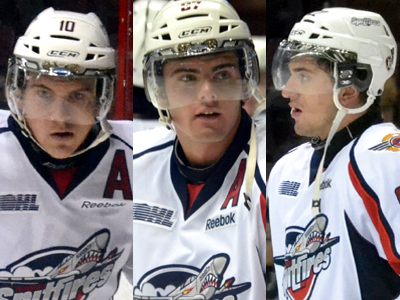 Windsor - June 8, 2013 - A trio of Spitfires have been invited to USA Hockey's National Junior Team Camp this summer.

Defencemen Pat Sieloff and Nick Ebert, along with centre Brady Vail are among 40 American players that will gather for evaluation in Lake Placid, New York in August. The camp is the first step on the road to making Team USA and competing in the 2014 IIHL World Junior Hockey Championships.

It will be Sieloff's second go-around with the club, during an amateur career filled with appearances representing USA Hockey. But for Nick Ebert and Brady Vail, it's an exciting, first-time honour.

"I was hoping to get invited last year," Vail said. "Then, this year, I thought I had a better chance."

Getting the call is a sign of how far Vail, a 4th Round pick (67th overall) back in the 2010 OHL Priority Selection, has come since coming to the Spits as a player not many knew about.

"This is definitely the next step for me," Vail said, on the phone from Palm City, Florida. "I have my own expectations, along with my family. I do the best I can to meet those. I think people have noticed my development a little. But it's not about that. And I can't stop now."

Vail says having his longtime friends and teammates with him will make it that much sweeter.

"Ya, it's going to be great. I grew up playing with a lot of the guys invited to the camp. Eebs and I are going on five years together. Pat's getting another chance to potentially win a medal. To have those guys with me will definitely be comforting. Hopefully we can represent the U.S together and win together."

The camp is set to take place August 3rd to 10th, at the 1980 Herb Brooks Arena in the Lake Placid Olympic Center.


8,373 Stories & Growing Daily...
To date OurHometown.ca has posted a total of 8,373 stories! News, sports, hockey, lifestyle, opinion and more!

Be sure to check out our Columnists archives or, why not Contribute a Story yourself!


OurHometown.ca
offers a very generous revenue sharing opportunity for our Columnists. If you are interested in learning more details about writing for us, please send us an
EMAIL.
Click on Photo or Story Title for more info
HometownHockey.ca News Database Last Updated:
Aug. 10, 2020 @ 8:14 AM EDT