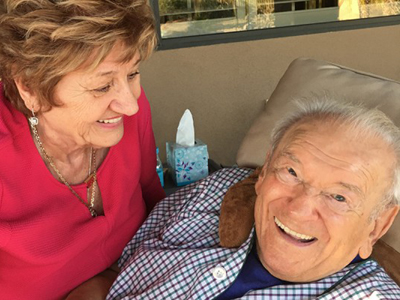 Windsor - Mar. 27, 2017: Magdalena and Joseph Szecsei have donated $100,000 to fund research into neurodegenerative diseases. Joseph Szecsei is living with Parkinson's disease; the couple say they are thrilled to support research in their home city and look forward to outcomes that advance treatments. FULL STORY
| | |
| --- | --- |
| Ottawa - Mar. 7, 2017: British Columbia offers some of the best skiing in Canada. Whistler has become an international hub for the sport with its two mountains, Whistler and Blackcomb. The slope difficulties are varied and are spread out over the massive 8,000 aces. The ski season begins in November and concludes in May. Garibaldi Park offers some of the most picturesque hiking trails found anywhere in the world. FULL STORY | Petawawa - Feb. 25, 2017: Move-in ready with a two year old roof over your head and many other updates in this quaint two bedroom, one bath, home that is great for a first time buyer, or retired couple that appreciates everything on one level. FULL STORY |
| Stoney Point - Feb. 8, 2017: Families of over 150 children globally including Tristan Burk of Stoney Point, Ontario struggle with SCN8A - a rare but devastating genetic disorder - are joining forces to educate the public about SCN8A and inform affected families of available resources. The First International SCN8A Awareness Day is coming up February 9th to share the story of the grave impacts of this newly identified epilepsy. FULL STORY | Windsor - Dec. 16, 2016: Hey Windsor! There is a group of local musicians trying to make a difference in our city. The S'aints, comprised of Jody Raffoul, Jeff Burrows, Kelly "Mr. Chill" Hoppe, Kelly Authier, Wes Buckley, David Cyrenne and Marty Bak will take to the stage at the Colosseum at Caesars Windsor on Sunday, December 18th for an all ages show FULL STORY |

Windsor - Sep. 29, 2016:
Caesars Windsor is all about entertainment and leisure. Its Colosseum regularly hosts headline acts that are entertaining and enjoyable. And, there is no dearth of food, with the Nero's Steakhouse transporting you back in time to ancient Rome where you can feast on sumptuous seafood and steaks. The Artist Café will thrill art lovers. The café is decorated with vibrantly painted murals and paintings, and strategically placed sculptures add more depth.
Toronto - Sep. 24, 2016:
OLG has invited the bidders to submit tenders that would include the development and operation of three sites – Woodbine Racetrack, Great Blue Heron charity casino, just north of Port Perry, and either Ajax (at Ajax Down Racetrack) or Pickering (as part of a proposed new entertainment precinct called Durham Live).
Toronto - Sep. 15, 2016:
Trade relations between East Asia and North America are complicated, to say the least. China and the U.S. are committed to oppositional systems of governance, and yet they are the amongst the largest trade partners in the world. Japan and the U.S. have set aside the fallout of catastrophic wars and occupations and trade on a massive scale.
Windsor - Aug. 27, 2016:
Between August 29th and September 17th, Devonshire Mall will be launching two new initiatives in support of Jumpstart, a student nutrition program which helps nourish young bodies and minds in our community. Mall customers will be able to make a contribution by visiting the five-foot-tall milk carton positioned in the food court, or by adding Devonshire Mall on Snapchat. For each Snapchat add, the mall will donate fifty cents, up to a total of $5,000.
Windsor - Aug. 25, 2016:
Emergency services personnel, city of Windsor staff and agencies including Enwin, Union Gas and many others, are working hard to deal with the fallout from damage caused by a sudden tornado Wednesday night. It was just after 7 when the first reports of a tornado touched down in the LaSalle area and then shortly after that in Windsor.