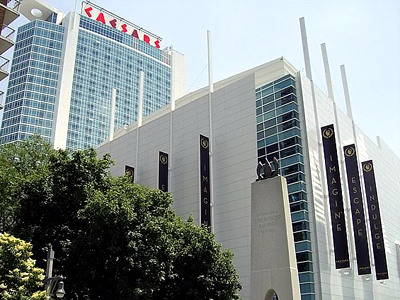 Windsor - Sep. 29, 2016: Caesars Windsor is all about entertainment and leisure. Its Colosseum regularly hosts headline acts that are entertaining and enjoyable. And, there is no dearth of food, with the Nero's Steakhouse transporting you back in time to ancient Rome where you can feast on sumptuous seafood and steaks. The Artist Café will thrill art lovers. The café is decorated with vibrantly painted murals and paintings, and strategically placed sculptures add more depth. FULL STORY
| | |
| --- | --- |
| Toronto - Sep. 24, 2016: OLG has invited the bidders to submit tenders that would include the development and operation of three sites – Woodbine Racetrack, Great Blue Heron charity casino, just north of Port Perry, and either Ajax (at Ajax Down Racetrack) or Pickering (as part of a proposed new entertainment precinct called Durham Live). FULL STORY | Toronto - Sep. 15, 2016: Trade relations between East Asia and North America are complicated, to say the least. China and the U.S. are committed to oppositional systems of governance, and yet they are the amongst the largest trade partners in the world. Japan and the U.S. have set aside the fallout of catastrophic wars and occupations and trade on a massive scale. FULL STORY |
| Windsor - Aug. 27, 2016: Between August 29th and September 17th, Devonshire Mall will be launching two new initiatives in support of Jumpstart, a student nutrition program which helps nourish young bodies and minds in our community. Mall customers will be able to make a contribution by visiting the five-foot-tall milk carton positioned in the food court, or by adding Devonshire Mall on Snapchat. For each Snapchat add, the mall will donate fifty cents, up to a total of $5,000. FULL STORY | Windsor - Aug. 25, 2016: Emergency services personnel, city of Windsor staff and agencies including Enwin, Union Gas and many others, are working hard to deal with the fallout from damage caused by a sudden tornado Wednesday night. It was just after 7 when the first reports of a tornado touched down in the LaSalle area and then shortly after that in Windsor. FULL STORY |
Windsor - Aug. 21, 2016:
Mother Nature had a hard time deciding how to behave Saturday, but she sure gave us some pretty skies while she was thinking about it. Here are some clouds shot in Riverside over Belle Isle after the sun went down. Thank you, Mother Nature!!
Windsor - Aug. 16, 2016:
Devonshire Mall announced today a $70M redevelopment and renovation program. This exciting program will bring new shopping and dining options for Windsor consumers and will modernize the interior of the shopping mall with a bright and open new experience. A key feature of the redevelopment will be a new and expanded food court. The retail expansion will be complimented by a program of renovations throughout the mall.
Windsor - Aug. 12, 2016:
If you thought you were seeing things at Dieppe Park Thursday, you weren't. The cruise ship Victory 1 made a port call to our fair city en route to Chicago as part of a ten day Great Lakes Grand Discovery Cruise. The ship leaves Toronto or Montreal, depending on the cruise, and makes its way to Chicago, touching each of the five Great Lakes in the process
Strathroy - Aug. 11, 2016:
Lambton-Kent-Middlesex MPP, Monte McNaughton, issued the following statement on yesterday's police action in Strathroy: I commend the combined efforts of the RCMP, CSIS, the OPP, the Strathroy-Caradoc Police Service and other police forces who worked together to take firm and decisive action, and help keep our community safe. I also offer my thanks and appreciation to both the frontline officers, and to those working behind the scenes, for their ongoing professionalism throughout.

Ottawa - Aug. 10, 2016:
Earlier today, the RCMP received credible information of a potential terrorist threat. A suspect was identified and the proper course of action has been taken to ensure that there is no danger to the public's safety.