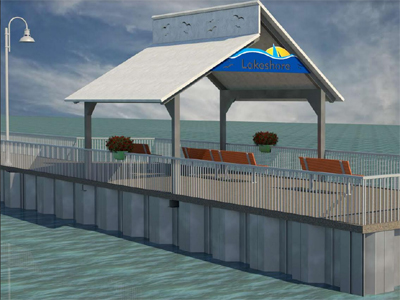 Lakeshore - Mar. 27, 2018: Lakeshore Council has supported the addition of two shade structures on the West Beach Jetty. The Jetty is intended to separate beach goers from boaters. The new jetty will have a 9 m solid surface with viewing areas, seating and access from the West Beach. It not only protects swimmers from boaters, but provides a new opportunity to connect to Lakeshore's waterfront on Lake St. Clair FULL STORY
| | |
| --- | --- |
| Lakeshore - Mar. 1, 2018: Lakeshore's newest visitor is a Snowy Owl, affectionately named 'Atlas', who is vacationing at the front of the Atlas Tube Centre grounds. She can be found on the light posts watching for prey (small mammals and birds) or enjoying a meal on the soccer pitch. Atlas has made Lakeshore's Atlas Tube Centre her layover destination for 2018! FULL STORY | London - Feb. 19, 2018: As you know, cold and flu season is still upon us. Whether you succumb to it or not, this soup is guaranteed to warm your bones and provide a large dose of good health to help make or keep you well this winter season. Here is a great recipe for a restorative winter soup. FULL STORY |
| Toronto - Oct. 10, 2017: Sears Canada Inc. ("Sears Canada", or the "Company") today announced that it and certain of its subsidiaries (the "Sears Canada Group") will be applying to the Ontario Superior Court of Justice (Commercial List) (the "Court") for approval to liquidate all of its remaining stores and assets. FULL STORY | Toronto - Oct. 4, 2017: Quebec City has over 400 centimeters of snow every winter and this really transforms the city. The city starts preparing for the holiday season in early December and the Christmas lights brighten up the whole city in the same way that the graphics of 7Sultans Canadian casino light up the screen of your mobile or tablet. FULL STORY |
Windsor - Aug. 9, 2017:
On Sunday July 30, 2017 a citizen attended Windsor Police headquarters to report an incident of Child Luring. Ryan Jessop, a 40 year old male from Windsor, is charged with Telecommunication with a person believed to be under 16 years for specific criminal offences and making available sexually explicit material to a person under or believed under 16 years for specific criminal offences.
Toronto - Jun. 21, 2017:
The LCBO is extending select store hours in a number of locations across the province from Thursday, June 22 to Sunday, June 25 and on Sunday, July 2, to accommodate shopping for Canada Day activities and in advance of a potential labour disruption.

Ottawa - Apr. 7, 2017:
The Prime Minister, Justin Trudeau, issued the following statement today on U.S. strikes in Syria: Canada fully supports the United States' limited and focused action to degrade the Assad regime's ability to launch chemical weapons attacks against innocent civilians, including many children. President Assad's use of chemical weapons and the crimes the Syrian regime has committed against its own people cannot be ignored.

Chatham-Kent - Mar. 28, 2017:
On March 27, 2017, around 10:00 p.m., a Chatham-Kent Ontario Provincial Police (OPP) member was traveling eastbound on Highway 401 when they attempted to stop a vehicle for a traffic violation. The male driver, Michael LAMB, 48-years-old male of Windsor, ON, has been charged
Windsor - Mar. 27, 2017:
Magdalena and Joseph Szecsei have donated $100,000 to fund research into neurodegenerative diseases. Joseph Szecsei is living with Parkinson's disease; the couple say they are thrilled to support research in their home city and look forward to outcomes that advance treatments.