| | |
| --- | --- |
| | |
Flames win OT thriller against Sharks to keep pace in wicked west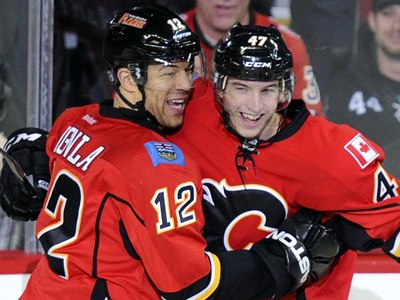 Calgary - March 14, 2012 - After being heavily scrutinized for his play to this point as a member of the Calgary Flames, center Matt Stajan has recently began to silence the critics as he once again turned in a very impressive performance Tuesday night in Calgary. Stajan would go on to become the hero on this night scoring his 5th goal of the season in overtime to propel the Calgary Flames past the visiting San Jose Sharks by a score of 3-2.

The Calgary Flames NHL leading streak of scoring the first goal in eleven consecutive games was snapped in the early stages of the first period when Logan Couture would score his 29th goal of the season. This of course was not the start that the Flames were looking for playing in front of their home fans, and as a result they fumbled their way through a penalty filled first period of play. Just prior to the end of the opening frame, Curtis Glencross would be issued a five minute major and a game misconduct for a hit from behind on defensemen Jason Demers. This was without a doubt a reckless play by Glencross, but by no means was it worthy of a game misconduct in my eyes. The ejection from the game would ultimately put an end to the seven game goal scoring streak that Glencross had accumulated since returning from injury.

Swiss sensation Sven Baertschi would find the score sheet for the second consecutive game when he would follow up on a centering pass from Roman Horak and proceed to wire a shot past a screened Anti Niemi at the 5:46 mark of the second to tie the game up at one a piece. This play alone would showcase just how "hockey smart" this young player is; his ability to read and react to a developing play is absolutely top notch and is something you just can't teach to any player, you either have it or you don't. Jarome Iginla's insanely productive month of March would continue when the captain would score the go ahead goal late in the second period after Mark Giordano stepped out of the penalty box to a force a three on two rush that resulted in the 30th goal of the season for Iginla. This would mark the 11th consecutive year in which Jarome Iginla has scored at least 30 goals in a season and puts him in an exclusive company of being only the 7th player in NHL history to achieve such a remarkable feat.

Logan Couture would virtually replicate his first goal of the night as he would tie the game at two just over a minute into the final period on the Sharks sixth power play opportunity of the night. From that moment on Calgary really struggled to mount an offensive attack as they only managed to muster up two shots in the third period of a must win game. They did however do a great job a limiting the scoring chances against, which of course meant that this game would be headed for the dreaded "three point game…". One of the lone standout moments in the final period from a Flames perspective occurred when Jarome Iginla and Dan Boyle would renew pleasantries after getting caught up in the San Jose end. This would obviously lead to Boyle skating away with his tail between his legs as he clearly wanted no part in an altercation with Iginla.

Both teams would exchange mediocre chances in the beginning stages of overtime, but all it would take to end the game would be one poor decision by "tough guy" Dan Boyle. A rather pedestrian shot attempt by Boyle would end up getting blocked by Matt Stajan as he stormed up the ice on a two on one with Blake Comeau. From there Stajan would do a great job of remaining onside as he drove hard to the net with his stick on the ice just as Blake Comeau threaded a perfect pass onto his tape as he slide the game winning goal into the wide open net to ensure a crucial two points. Believe it or not, with the victory Calgary actually moves into a FOUR way tie for eighth in the west with San Jose, Colorado and LA. The Flames will now get set for yet another monumental matchup on Thursday as they host the 7th placed Phoenix Coyotes who sit just one point ahead in the standings.


THREE STARS
1. Matt Stajan (Overtime Winner)
2. Logan Couture (2 Goals)
3. Jarome Iginla (1 Goal, 1 Assist)



8,374 Stories & Growing Daily...
To date OurHometown.ca has posted a total of 8,374 stories! News, sports, hockey, lifestyle, opinion and more!

Be sure to check out our Contributors and Columnists archives!
Click on Photo or Story Title for more info
OurHometown.ca News Database Last Updated:
Dec. 4, 2020 @ 11:51 AM EST