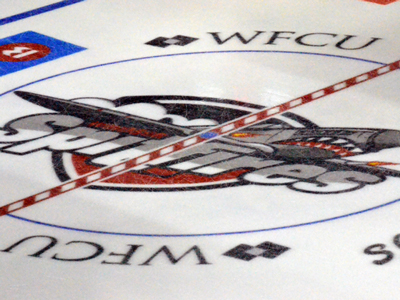 Windsor - January 31, 2013 - The Windsor Spitfires said all the right things heading into their match-up tonight with the Peterborough Petes.

They called it a must-win game.

They said they were putting a weekend in which they allowed 18 goals behind them with a renewed focus on defensive zone play.

When it came time to put up or shut up they did neither, allowing seven goals to a Petes team that is a mile out of the Eastern Conference playoff picture.

To make matters worse, it was a trio of former Spitfires doing most of the damage as Michael Clarke, Steven Trojanovic and Brandon Devlin combined for two goals and four points, including Clarke's game-winner with 8:15 to play.

In losing 7-5 to the Petes, the Spitfires have now surrendered an astonishing 25 goals in their last four games. For the mathematically challenged, that works out to better (worse?) than six goals against per 60 minutes of play.

The Spitfires are allowing a goal approximately every 10 minutes.

The worst part is, there have been numerous stretches over that period where they would have settled for just one in 10. Against Peterborough, Windsor allowed two goals in just over five minutes in the first period, and three in a similar span in the second. In Sudbury last weekend, it was three in 7:30. With Plymouth in town a week ago, they gave up three in a span of just under six minutes in the first period, followed by five in 10:06 in the second.

And on, and on.

After fighting off nearly 40 shots a night all season, goaltender Jaroslav Pavelka looks like the fight is gone. He has now been pulled in three of his last four starts.

He's hardly to blame, however. The defence has been just as bad.

Suspect all season, the D is now just M.I.A.

With less than 20 games to go, the Spitfires can't afford to continue down this path.

Nothing good lies at the end of this rainbow.