Long-in-the-tooth Chicago Bears defense is playing strong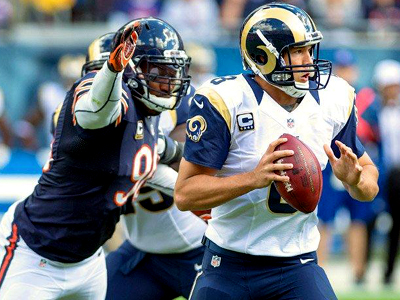 Chicago - September 26, 2012 - I'll start by not even talking about the Bears. A lot of Monday nights I have to be asleep well before end of the Monday night game. Woke up this morning to see the calamity going on surrounding the end of last night's Seahawks-Packers game. Wow, I'm glad to see the Packers sitting at 1-2 and sharing the basement with Detroit. But I know I'd be mad if that happened to my team. It's a long season and unfortunately I have the feeling that Green Bay and Detroit won't be sharing the basement for long, unless Lovie Smith's team can finally figure out how to defeat their arch rivals.

- What exactly is going on with Jay Cutler? I could always count on him to at the very least not be the problem with the Bears' offense. But after Sunday's game against the Rams, he was the problem with the offense (along with some more cases of blatantly dropped passes). But he threw behind, in front of, overthrew his receivers the whole game. This has to, and better, change.

- Is everyone else as excited as I am to see the way this long-in-the-tooth Bears defense is playing? Yes, two of the three opponents were not world beaters. But they also kept the high-powered Packers down. I hope this keeps up against the likes of Dallas, San Francisco, Houston, Detroit, etc.



8,374 Stories & Growing Daily...
To date OurHometown.ca has posted a total of 8,374 stories! News, sports, hockey, lifestyle, opinion and more!

Be sure to check out our Contributors and Columnists archives!
Click on Photo or Story Title for more info
OurHometown.ca News Database Last Updated:
Dec. 4, 2020 @ 11:51 AM EST