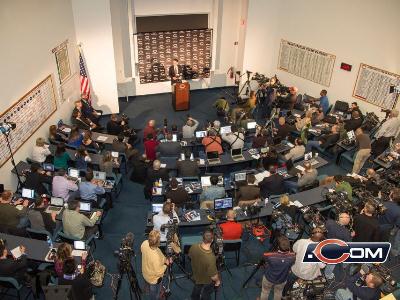 Chicago - January 18, 2013 - Personally, I am excited about the hiring of Marc Trestman as the 14th head coach in Chicago Bears history. As soon as I heard he was a leading candidate, I recognized his name and like most others probably did, wondered what happened to this guy over the last decade. I remember his name being tossed around as a guru in the 1990's into the early 2000's, when he led prolific offenses in San Francisco and Oakland.

I have to admit that I have a slight concern as others have mentioned, this being if his skills and philosophy are stuck in the 1990?s. I doubt it - again for some reason my confidence in Phil Emery's decision is solid. I trust that Emery didn't make a flippant decision, and the recommendations from pretty legendary NFL figures for Trestman have been strong.

Also, my first impression seeing Trestman speak as head coach is that he's a pretty unconventional dude. Some of the statements he made at the press conference were a little off the wall, saying he couldn't wait to "get his hands on" Jay Cutler, calling the football "precious" multiple times, etc. It's quite obvious that the reporting on Trestman's high intelligence has not been exaggerated.

But since "conventional" for the Chicago Bears has not worked out over the years, I'm all for making a less-than-conventional decision for once. Conventional for the Bears has been to hire a defensive-minded head coach, after a drawn-out process in which many candidates reject the job, and when all is said and done, the new coach has to hire from a depleted pool of assistant coaches.

I'm still in a bit of disbelief. This time around, the general manager of the Bears made a bold choice. All candidates were interested in the Bears job (as opposed to the last two times when multiple candidates turned down the Bears job as if it stunk). And also, Trestman was prepared in putting his staff together, striking swiftly to hire bonafide NFL assistant Aaron Kromer as his offensive coordinator, and Joe DeCamillis as special teams coordinator.

It is unfortunate that Dave Toub and Rod Marinelli have chosen to depart, but I'm willing to see them go to get rid of Lovie Smith. The important part is that again, for once the Bears are assembling a competent coaching staff with NFL success.

Yesterday it was officially announced that all Bears assistant coaches other than defensive assistant Jon Hoke have been let go. Gone are Mike Tice, Bob Babich (whew) and Lovie's son Mikal Smith. Time to start fresh.

It's been interesting to watch the process, and I'm looking forward to the future. Time for me to take a little break from the blog to make some much-needed updates to www.bearshistory.com.

Enjoy the final postseason games.