SNAPSHOT - Happy Easter from the shores of Lake St. Clair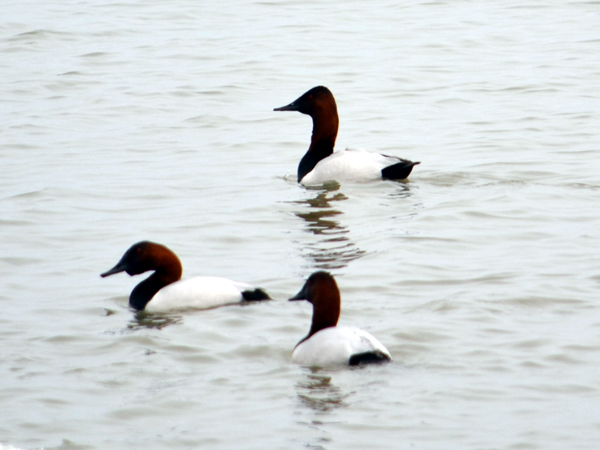 Stoney Point - Mar. 31, 2013 - We are blessed to enjoy a couple of family gatherings over Easter. The second and smaller dinner at our home and as always we are thrilled to meet new neighbours who stop by. Most of our neighbours fly in and stay for a short visit and that's fine by us as we appreciate any time with them. Meet the Canvasback and Common Merganser who have been hanging out with us on Lake St. Clair. Happy Easter to everyone.

Wikipedia states that "the Canvasback (Aythya valisineria) is the largest of the North American diving ducks. It ranges from between 48–56 centimetres (19–22 in) long and weighs approximately 862–1,588 grams (1.90–3.50 lb), with a wingspan of 79–89 centimetres (31–35 in). The Canvasback has a distinctive wedge-shaped head and long graceful neck. The adult male (drake) has a black bill, a chestnut red head and neck, a black breast, a grayish back, black rump, and a blackish brown tail. The drake's sides, back, and belly are white with fine vermiculation resembling the weave of a canvas, which gave rise to the bird's common name."

Wiki describes the "the Common Merganser (North American) or Goosander (Eurasian) (Mergus merganser) as a large duck, of rivers and lakes of forested areas of Europe, northern and central Asia, and North America. It eats fish and nests in holes in trees. John James Audubon called this bird the "Buff-breasted Merganser" in his book The Birds of America.

It is 58–72 cm (23–28 in) long with a 78–97 cm (31–38 in) wingspan, and a weight of 0.9–2.1 kg (2.0–4.6 lb); males average slightly larger than females but with some overlap. Like other species in the genus Mergus, it has a crest of longer head feathers, but these usually lie smoothly rounded behind the head, not normally forming an erect crest. Adult males in breeding plumage are easily distinguished, the body white with a variable salmon-pink tinge, the head black with an iridescent green gloss, the rump and tail grey, and the wings largely white on the inner half, black on the outer half. Females, and males in "eclipse" (non-breeding plumage, July to October) are largely grey, with a reddish-brown head, white chin, and white secondary feathers on the wing.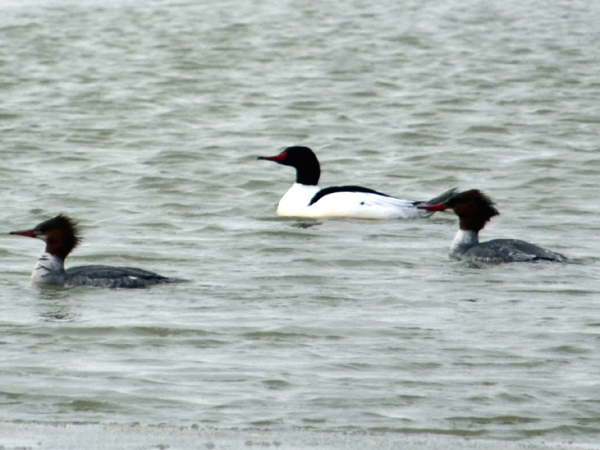 8,012 Stories & Growing Daily...
To date OurHometown.ca has posted a total of 8,012 stories! News, sports, hockey, lifestyle, opinion and more!

Be sure to check out our Columnists archives or, why not Contribute a Story yourself!


OurHometown.ca
offers a very generous revenue sharing opportunity for our Columnists. If you are interested in learning more details about writing for us, please send us an
EMAIL.

Click on Photo or Story Title for more info
SNAPSHOT - Ice, Ice, Baby Stoney Point Edition

Stoney Point - Feb. 22, 2020
SNAPSHOT - Ice, Ice, Baby

Windsor - Feb. 20, 2020
SNAPSHOT - Busy sky at sunset

Windsor - May. 16, 2019
SNAPSHOT - Don't stop looking, you never know!

Windsor - Apr. 9, 2019
SNAPSHOT - Alittleus Openus Cloudus over Detroit

Windsor - Apr. 6, 2019
OurHometown.ca News Database Last Updated:
Feb. 28, 2020 @ 3:03 PM EST