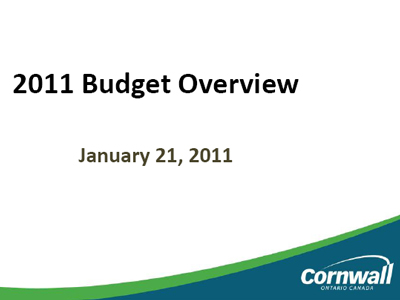 Cornwall - Apr. 2, 2011 - The City of Cornwall's Budget Steering Committee is recommending a 1.31% budget increase to their colleagues on Cornwall City Council. Members of the Committee include Mayor Bob Kilger, Coun. Denis Carr, Coun. Elaine MacDonald, Coun. Denis Thibault and Coun. Leslie O'Shaughnessy.

I have had the privilege to serve the residents of this City under the leadership of four different Mayors and have been actively involved in the adoption of nine municipal budgets over three terms. Soon Council will vote on the recommendations of the Committee and a budget that is in excess of $140 million.

During my time at City Hall, I always found the budget deliberations to be very educational, challenging and a key component of the role of a Councillor. The annual budget document is one of the most important documents that our elected officials will deal with during the course of their four year term.

The budget establishes the scope of capital work to be completed in the upcoming twelve months, as well as determining which projects make into the current year and which ones will be added to future budgets. The budget sets the parameters for policy decisions such as levels of service, amount of user fees, salary wage increase guidelines and more.

In my opinion, some of the most critical municipal decisions are made as part of the budget process, yet the City's current budget process excludes more than half of the Council. Sure they will get a chance to "discuss and debate" the Committee's recommendation when it comes to the Council table, but the majority of Council will have missed the discussions at the Committee level.

I am not a big fan of this current budget process and I know that I would have been strongly opposed to this process had it been proposed while I held a seat at the table. The budget process is far too important and too many key decisions are made that affect our City, to exclude six members from the process.

How are rookie Councillors Maurice Dupelle and David Murphy expected to fully understand the financial implications, if they aren't allowed to participate and vote throughout the process? On the other end of the spectrum, it strikes me as odd that the experience of Councillors Rivette, Grant, Clement and Gardiner is not being utilized during the budget discussions.

Collectively, these six councillors received 33,364 votes and I am sure those voters will hold these municipal leaders accountable for all the budget decisions, regardless of how heavily involved they were in the process.

I recently read in the Standard Freeholder that Coun. Dupelle was "a little bit surprised" by the budget recommendations. As a taxpayer it doesn't provide you with a comfort level when your elected officials are surprised by the direction your $140 million dollar roadmap is taking. I am not picking on Dupelle by saying this, simply highlighting how flawed I believe the process is.

All eleven members of Council sit on the Planning Advisory Committee (PAC) and in turn PAC makes recommendations back to Council, or in other words, themselves. Over the years, there has been debate about shrinking the size of PAC, but it hasn't happened because it was felt that Official Plan and Zoning matters are complex and all of Council should be involved in the full discussion at the PAC level. Further, there simply isn't enough time to conduct these hearings at a Council meeting. I believe the budget is equally as important and the entire membership of Council should take a more active role.

I recognize that previous budget deliberations had been excessively long and tedious and changes needed to be made. I believe there is considerable merit to budget sessions that involve the whole Council. I know I learned a great deal from listening to the questions of my colleagues. I don't think Councillors need to go line by line and debate if six pencils are needed versus four pencils, but in my opinion they all need to be involved in the process.

I know I would have been extremely upset had I been one of the six councillors not appointed to the Budget Committee. I would have felt excluded from one of the most important municipal processes. I feel very strongly that budget process should involve all eleven members of Council and I would hope someone will introduce a motion to change this flawed process.