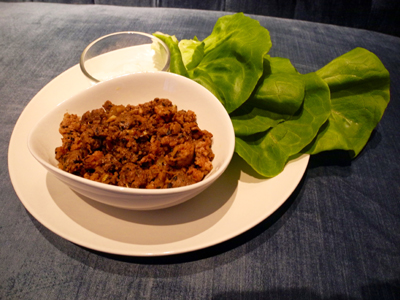 London - May. 11, 2016: This recipe is simple to prepare and is very low in carbohydrates (approximately five carbs per serving with five large lettuce leaves and the sour cream). I use Field Gate organic sausages from Ontario, which are fantastic. The herbs and spices are full of antioxidants, which can be lacking in some low-carb food, and they add a lot of flavour. FULL STORY
| | |
| --- | --- |
| Chatham - Apr. 30, 2016: Chathamites, check out this fabulous home that has some unique features that Joanna and Chip Gains can appreciate like the brick wall meticulously completed to give you a standout dining room. Painted in neutral and on-trend colours, simply move your family into your new four bedroom turn-key home. Don't take my word for it, check out the realtor's link and call to set-up a tour to fully appreciate this gem. FULL STORY | Toronto - Mar. 7, 2016: LCBO confirms earlier statements today by Minister Charles Sousa that it has no plans to reduce the size of its 654-store network through the sale of LCBO-owned locations. In fact, LCBO is investing in expanding both the size and scope of its retail network to further improve customer service. FULL STORY |
| - Feb. 4, 2016: The concept of net neutrality suggests that all internet service providers should provide content of equal quality and quantity to its users regardless of source. However, as the internet is such a new technology, there have been many concerns over how government departments are able to adequately police this concept. FULL STORY | Edmonton - Dec. 28, 2015: While 2016 may not be the year Tim Raines gains entry into the Baseball Hall of Fame, this year's vote will be the one that ensures the Montreal Expos legend earns his Cooperstown plaque in 2017, which will also be his final year on the ballot. FULL STORY |

Toronto - Nov. 30, 2015:
The Ontario Liberals' shenanigans continue to surprise even their biggest skeptics. Government messages are scripted to deliver an image of high moral ground, as leaks and documents reveal quite the opposite. The Hydro One sale is a case in point. The story line is all about securing funds to build needed infrastructure – the same they neglected and procrastinated on for the past 12 years. Reading the Government's financial documents, however, tells a different story
Cornwall - Nov. 28, 2015:
At 12:16 am this morning, people in Cornwall and area experienced an earthquake. Earthquakes Canada has confirmed the following: Approximate Location of Earthquake: This earthquake occurred 15 km south of Cornwall, ON and was felt from Morrisburg to Montreal and in northern New York State. There have been no reports of damage.
Windsor - Nov. 24, 2015:
Windsor residents are being asked to be aware of individuals posing as City Building Inspectors. Several people have reported that individuals dressed similar to inspectors knocked on their door and asked to enter their homes. Once inside, the men go to the water heater and begin talking about the benefits of one product over another and it becomes apparent they are salesmen from a water heater rental company.

Windsor - Nov. 23, 2015:
The City of Windsor is preparing to welcome refugees from Syria in the coming weeks, but how many and exactly when the refugees will arrive are still to be determined. On Tuesday, the Federal Government is expected to share Canada's plan for welcoming up to 25,000 refugees to the country, and once those details are known, it will position Windsor better to respond to questions from the community and receive information from citizens about donations.
Toronto - Nov. 19, 2015:
Starting today the LCBO is offering ten nouveau wines for sale this year – including two from Ontario. The annual release of Beaujolais Nouveau and other nouveau wines on the third Thursday of November celebrates the first wines of the year's harvest. Nouveau wines are traditionally one of the LCBO's fastest-selling products with more than half selling out in the first week.
Source: OurHometown.ca
Source: OurHometown.ca
Source: OurHometown.ca
Source: OurHometown.ca
Source: OurHometown.ca
Source: OurHometown.ca
Source: OurHometown.ca
Source: OurHometown.ca
Source: OurHometown.ca
Source: OurHometown.ca
Source: OurHometown.ca
Source: OurHometown.ca
.
7,680 Stories & Growing Daily...
To date OurHometown.ca has posted a total of 7,680 stories! News, sports, hockey, lifestyle, opinion and more!

Be sure to check out our Columnists archives or, why not Contribute a Story yourself!


OurHometown.ca
offers a very generous revenue sharing opportunity for our Columnists. If you are interested in learning more details about writing for us, please send us an
EMAIL.