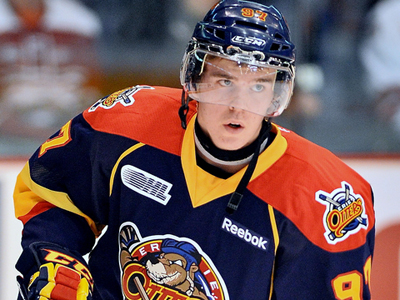 Buffalo - June 26, 2014 - With the 2014 NHL Draft just a few days away, the Buffalo Sabres will be making the second highest selection in franchise history that should serve as a major piece of their current rebuild. While the Sabres' 30th place finish this year ensured them a top-two selection at the draft, the real prize sits atop the 2015 NHL Draft when Connor McDavid and Jack Eichel are set to be picked first and second (not necessarily in that order).

While Tim Murray hasn't come out and said it, the Sabres aren't expected to compete for much more than the right to pick one of those two elite talents as yet another building block on the way to a Stanley Cup. Murray and the Sabres are in a good position for 2015 as they hold three picks in the first round, giving them that much more of a chance to score the first pick. While St. Louis' pick (acquired as part of the Ryan Miller trade) won't have any sort of effect on Buffalo's lottery chances, it's possible that the Islanders' pick does provide some additional support. Ideally the Islanders would suffer through an ugly season and give the Sabres a massive boost towards snagging first overall. The worst case scenario is that they sneak into the playoffs and give the Sabres two picks in the bottom 15 selections of the round.

There won't be any change made to the NHL Draft Lottery for next season, so the 30th place club will have a 25% chance to get the first pick with the odds decreasing with each subsequent finisher. So the Sabres could wind up in the exact position they're in now. No matter how teams are posturing today doesn't prevent five clubs from finishing between 25 and 30 in the standings and holding the top odds for a very valuable lottery.

I've taken the time to run through each club and give my opinion on the current trend they're following (up, down or neutral), if they own their pick next season and the threat they are to wind up in the lottery. The lottery threat scale goes from one-to-five, with one being the most likely a team is to wind up at the bottom of the league and the top of the draft. Each team's trend is more subjective as many teams were considered neutral despite having very different circumstances.

Buffalo's own ranks would give them a downward (perhaps neutral) trend with a level one threat as a major player in the lottery. The Sabres will certainly make some moves this offseason but I don't foresee anything on the horizon that will drastically turn the team's fortunes around. The Sabres will certainly be a player for the first pick next year, although the odds certainly weigh against them landing McDavid.

Anaheim advanced through to the second round of the playoffs this year and took the Kings to seven games. They're searching for another center to play behind Ryan Getzlaf and are very much one of the Western Conference's power clubs.

Coyotes. They're on the outside looking yet again this season and play in a very difficult division. While they're a budget team, they also run an effective, disciplined system with a quality supporting cast. They certainly aren't in a position where a nosedive to the bottom of the standings is even close to a possibility at this point.

Bruins: Neutral Do they own their 2015 pick: Yes Lottery Threat Level: 5. They're fighting a bit of a cap crunch, but they're still the Bruins.

Flames: nteresting fact; Calgary is picking the highest they ever have this season at fourth overall. Brian Burke isn't exactly a guy who wants to sit around and wait for his club to improve. I assume his new General Manager told him something similar. While the Flames have some promising prospects rising in the system, they still seem pretty far from the playoffs. They'll certainly have their name in the lottery next year, exactly what their percentage is remains to be seen.

Hurricanes: The Hurricanes are working through a backslide that's going on five years now. Cam Ward is more than likely on his way out and uniting the Staal brothers didn't create the instant success that some predicted. While they're definitely more of a retool-on-the-fly team, I could see them working through more growing pains for yet another season. I have a feeling they'll be back in the top-10 next summer.

Blackhawks: The Blackhawks first round pick in 2015 will be deep in the 20s. While it's possible that they trade the pick for an NHL ready player at some point in the near future, it shouldn't affect the Sabres in any way.

Avalanche: The Avs are stocked with young talent and could leave Las Vegas with three major awards. There's no reason to think that their young stars (MacKinnon, Duchene, Landeskog et. al.) won't continue to lift the team into the playoffs. While their advanced stats were less than impressive, I don't see this roster sliding into the top-10 should they miss the playoffs.

Blue Jackets: The Jackets are acting like a team that is ready to win in the very near future. They may not be a Cup team next season, but they've positioned themselves to have a boatload of talent in the NHL in the next year or two. Like with the Blackhawks, I'd expect this pick to end up in the hands of another team but not be near enough to the lottery to affect anyone's odds.

Stars: Dallas made a big splash last offseason and it paid immediate dividends. They're going to likely push for improvement next year and while this pick could wind up as trade currency, I'm not expecting to see the Stars finish in the teens at the very worst.

Red Wings: While the Detroit juggernaut that dominated the early and mid-2000s is starting to peter out a bit, they were a playoff team yet again last year and remain a destination for players on the move. While it's certainly possible that the Wings will be part of the draw, this is most certainly not a bottom-five team. My lone concern is that this pick is traded to a seller for an asset at the deadline but the Wings wind up out of the playoffs, thus improving the odds of another lottery club by however small a margin.

Oilers: Edmonton is in the top-five of the draft yet again but are not in a position to draft the player who would likely help them most. While they're working to improve their roster, I'm not sure they have the pieces to make a major leap forward. I have them as one of the few biggest threats to the lottery next season as I don't foresee them making any drastic leaps in the standings.

Panthers: Like the Oilers, Florida sits in the top-three yet again (the third time in four years for the Panthers) and face a multitude of needs in terms of rebuilding their roster. Even with the assumed selection of Aaron Ekblad, Florida will still need quite a bit of help to start their ascent from the league's basement. They should be lurking in the bottom five of the league yet again next year.

Kings: The defending Cup champs aren't going to experience any significant decrease in production or success any time soon. They'll be picking in the 20s.

Wild: Minnesota gets an upward trend grade simply because they're trying to win now. They aren't waiting for anyone to mature and they'll likely make a few big signings yet again this summer. They won't be a threat to tank by any stretch although their pick could potentially end up going elsewhere.

Habs: Montreal probably would have advanced to the Cup Final had Carey Price not gone down. They have some signings to make this summer and will likely flirt with first in the Atlantic yet again.

Preds: Nashville is sitting in limbo and just barely out of the top-10 in this year's draft. A full year of Pekka Rinne ought to give the squad a few more points as should a slightly more experienced Seth Jones. They still need more goal scoring and if they decide to ship it for more help and still miss the playoffs, it could wind up seriously boosting the lottery percentage of the team that obtains it.

Devils: The Devils should be improved next year simply because Cory Schneider should see a lot more work. They'd be a playoff team if they could win a shootout, too. While they still need some goal scorers, they shouldn't be in the bottom 10 teams in the league this year; although bottom 15 is a distinct possibility.

Isles: The Isles are expecting to improve next season. The numbers say that Jaroslav Halak ought to be enough of an improvement to make them a borderline playoff team. While I don't have that much faith in their chances, I don't see them finishing in the bottom five again. They're a level 5 lottery threat simply because they can only help the Sabres at this point. The best case scenario is that they miss the playoffs and boost Buffalo's chances by a few percentage points.

Rangers: The stunning number of free agents that the Rangers need to sign will make this a tricky offseason for the Blueshirts. They're also without a first round pick in each of the next two drafts (Tampa owns both), so they're not in a position to stock their cupboards at all. While that could be a recipe for long-term decline, they still have the world's best goalie and will still compete for a top-four spot in the Metro next year.

Sens: It seems as if nobody wants to play in Ottawa these days. I'm not sure if it's the city, ownership or something different altogether. But the consecutive departures of Dany Heatley, Daniel Alfredsson and now Jason Spezza isn't the greatest marketing campaign for the club. Anaheim holds their first round pick this year and I can see them struggling again next season. They could wind up as a serious contender to pick high in 2015.

Flyers: No matter what people in Philly say, I'm still not trusting Steve Mason as my starting goaltender. The Flyers made a very perplexing trade by moving Scott Hartnell and I'm interested to see how they progress with Ron Hextall at the helm. Regardless, they still boast a roster with enough skill to push for a playoff spot next season.

Pens: Even with some of their squirrelly offseason moves, the Pens are still the Pens. They boast two of the top players in the entire world and have enough skill to be a two-round playoff team at the very least.

Sharks: The Sharks have publicly stated they need to retool, which indicates that they could be in for a step back as compared to this season. Anything they do will likely be done on the fly as opposed to a full-scale rebuild, so I don't anticipate that they'll be lurking anywhere near the top-10 of the draft.

Blues: The second club to ship a first round selection to the Sabres, St. Louis is very much a power club in the West. They're going to more thank likely contribute a pick lower than 16 with the distinct possibility of that pick drifting into the 20s.

Bolts: Tampa has two picks in 2014 and 2015 thanks to the Rangers. While they're currently second to the Sabres in terms of overall picks in the McDavid draft, I don't expect to see either of those picks wind up in the top-10, let alone the top-5. They're a slight threat to move up, but given the strength at the top of the draft I doubt they pose any threat to the Sabres at this point.

Leafs: The Leafs can't seem to get out of their own way most of the time. They have some quality talent and ought to flirt with a playoff spot but I wonder if they can force their way in. Even should they miss the playoffs, I don't expect them to be a basement team next year.

Canucks: What looked like it might be an on-the-fly gear change for the Canucks is slowly entering rebuild territory. They shipped away two number one goaltenders and received very little in return. While they still have quality veterans up and down the roster, don't be surprised if they're picking in the top-10 again next year.

Caps: Despite boasting a pair of explosive offensive talents, it seems as if the Capitals are in need of a number of moves to get back into a competitive mode. In fact, it could be a realistic possibility to see them picking lower than 13 come next summer.

Jets: Winnipeg has a handful of supremely talented players. They also have very questionable goaltending and some serious holes to fill. They pick ninth this year and I could see another top-10 selection in their future for 2015.