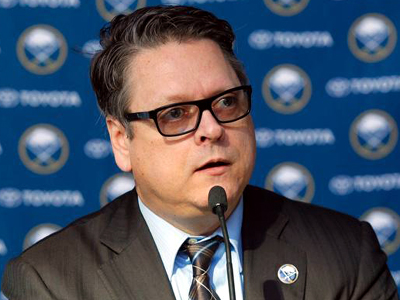 Buffalo - July 19, 2014 - The Buffalo Sabres' dismal 52-point campaign in 2013-14 was punctuated by a historically bad offensive output that put the team nearly 40 goals behind the next closest club and well below the 200-goal plateau.

It was a campaign that brought about the long overdue firing of Darcy Regier, the introduction of Tim Murray along with the groundwork to select Sam Reinhart second overall at this year's entry draft. The selection of Reinhart set off a multitude of signings and roster moves that has the Sabres in a much different position than they were entering last year's training camp.

After setting the table during his first trade deadline as a general manager, Murray went about a wide-ranging reshaping of the roster via buyouts and free agency. His moves will certainly make the Sabres a more entertaining and competitive club heading into next season. While the team may remain a bad bet as they work towards a shot at Connor McDavid, the new acquisitions ought to provide those looking at NHL betting lines a little more pause when considering a contest featuring the Sabres.William hill's betting accumulator is a terrific site to look at if you're considering a bet on an NHL game.

Locking up Tyler Ennis for five years gives Murray and the Sabres just five players with deals that stretch beyond four years while every other player under contract is locked up for three or fewer years. Two of those long contracts belong to Tyler Myers and Cody Hodgson, two players inked by the previous regime; meaning Murray actually inherited a pair of the few contracts that could be considered challenging to move.

Murray has repeatedly said that he doesn't want this to be a lengthy rebuild and his actions this summer certainly indicate that it won't be. While Ennis is under contract for five years, his $4.6 million cap hit is very manageable (especially should the cap continue to rise) and will be easy to move should the club reach a point that Ennis isn't serving as a vital cog. Only having four other players whose contracts extend to the 2017-18 season or beyond means that Murray will have plenty of flexibility in the coming seasons to maneuver under the cap.

For example, the Sabres will have 10 players who will be unrestricted free agents next summer with another 12 restricted free agents. Notables among both groups include Drew Stafford, Chris Stewart, Michal Neuvirth, Jhonas Enroth (all UFA), Mikhail Grigorenko, Mark Pysyk and Johan Larsson (all RFA). The following offseason (2016) will see Zemgus Girgensons, Marcus Foligno, Jake McCabe, Rasmus Ristolainen, Joel Armia and Chad Ruhwedel reaching the end of their first contracts.

That's a major contingent of players who will be challenged by Buffalo's deeply stocked prospect pipeline which means that there will be plenty of challenging personnel decisions to come in the next two offseasons.

What this all means is that Tim Murray and the Sabres are in a very good position to not only carry out this rebuild in short order, but they're in a position to shape themselves into contenders far before many might expect. I wouldn't dare say the Sabres will be a serious Cup contender by a certain date. But I do feel that if Murray's actions stay on track as they have to this point, the Sabres could be flirting with a playoff spot as early as the 2016-17 season.

At that point Ennis, Myers, Hodgson and Moulson will all have three years left on their deals and each will be a prime trade target if they haven't already been moved by that point. Brian Gionta will be entering the final year of his deal while Josh Gorges will have two seasons left. The rest of the roster will be working into the first or second years of their second NHL contract and taking on a much more serious role with the team. It all points to the organization's growth hitting critical mass at the exact right time.

Obviously there will need to be a great deal of adept roster management along the way as Murray will need to determine who is worth keeping around and who needs to be shipped out, but the basic numbers indicate that the roster is ready for growth and Murray has done well to ensure there aren't any unnecessary hurdles for the team's prospects to clear.