| | |
| --- | --- |
| | |
Oilers have picked the wrong time to start winning games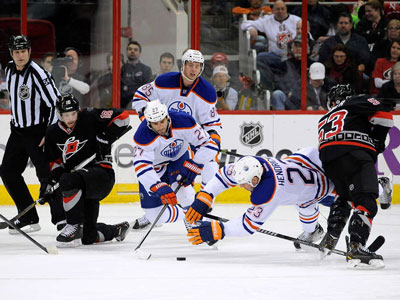 Edmonton - March 16, 2014 - After struggling through the opening two-thirds of their 2014-15 campaign, the Edmonton Oilers have sure picked a peculiar time to start trying to play a far more responsible style of game.

With Sunday afternoon's 2-1 victory over the Carolina Hurricanes, the Oilers have now gone 9-4-3 over their last sixteen and have inexcusably pulled themselves to within one point of the Florida Panthers and sit just four back of both the Calgary Flames and New York Islanders in the NHL standings.

Justin Schultz played the role of hero, scoring the game-winner midway through period three, as Edmonton finished their four game road trip with a 2-1-1 record.

The goal was not only the sophomore's first in eleven games but also marked the first time an Oilers blueliner has scored on the power play this season.

You heard me right. No wonder Edmonton currently sits twenty-first in the league on the man-advantage and at the bottom of the Western Conference standings.

Ben Scrivens wasn't tested much but rebounded nicely after giving up a weak first period goal, making a big stop off Jordan Staal in the dying seconds to earn his sixth win in Orange and Blue and put an end to a personal two game losing skid.

It was another tough game for the trio of Jordan Eberle, Ryan Nugent-Hopkins and Nail Yakupov, as the Oilers second line continues to create next to nothing on the offensive side of the puck. At the opposite end of the spectrum, the line of Boyd Gordon, Mat Hendricks and Anton Lander were solid from start to finish and managed to chip in on the scoresheet, courtesy of Hendricks' first period icebreaker.

While it may have taken Dallas Eakins much of the current campaign to get his players to buy into playing a somewhat responsibly defensive system, it looks as though the message has finally started to sink in. Unfortunately, it could not have come at a worse possible moment.

Should they continue collecting points at anywhere near the clip they currently are, it will quite possibly cost them a lottery pick and the chance at drafting the franchise defenceman they so badly need. Now no one is suggesting they should go out and intentionally lose but come on!!!

With Edmonton set to return home for an extended six game home stand and the first three outings coming against the Nashville Predators, Buffalo Sabres and Calgary Flames, they might just extend their current streak a little longer.

All the while playing this god awful brand of hockey we have been force fed since the completion of the 2014 Sochi Olympics. With all the talent on this roster is it too much to ask for just a bit of excitement form time to time?

Outside of Schultz jumping up into the rush and watching Taylor Hall and David Perron do their thing, this group has become almost unbearable to watch. Come on Dallas, this has been a pretty painful campaign for everyone to endure.

Throw your players and fans a bone and let your talented youngsters run with it over the final few weeks of the season and see if they can relocate that offensive mojo they once had. Let's not lose sight of the fact that all the points this team earns down the stretch mean absolutely nothing come next October.


3,453 Stories & Growing Daily...

To date HometownHockey.ca has posted a total of 3,453 hockey stories!

Be sure to check out our Columnists archives or, why not Contribute a Story yourself!



HometownHockey.ca

offers a very generous revenue sharing opportunity for our Columnists. If you are interested in learning more details about writing for us, please send us an

EMAIL.
Click on Photo or Story Title for more info
HometownHockey.ca News Database Last Updated:
Aug. 10, 2020 @ 8:14 AM EDT