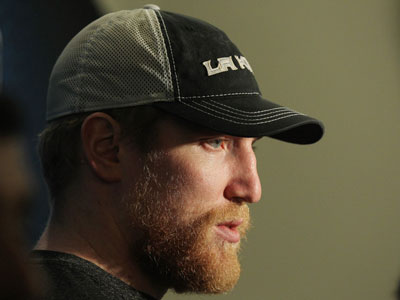 Edmonton - March 18, 2014 - Back in 2002, the Edmonton Oilers used their second round pick at the NHL Entry Draft to select defenceman Matt Greene.

He was lucky enough to make it all the way to the Stanley Cup Finals during his rookie season in 2006 but was ultimately traded away to the Los Angeles Kings along with Jarret Stoll in exchange for the extremely talented Lubomir Visnovsky in the summer of 2008.

From 2008-2012, Greene managed to put together four pretty solid campaigns out on the West Coast and won himself a Cup in 2012 to boot. Since then, the thirty year old has fallen on some tough times and has had to battle the injury bug over the past couple of years.

After becoming a regular fixture on the Kings backend since arriving back in 2008, it appears as though his days in silver and black are about to come to an end.

With unrestricted free agency staring him in the face and Los Angeles likely being in no real hurray to re-sign him, do not be surprised to see his former head coach come calling next July about the possibility of an encore performance in the Alberta capital.

The now nine year NHL veteran was limited to just five games during the lockout shortened 2013 campaign, thanks to a rather serious back injury. While he has rebounded from his wonky back in 2013-14, he has had the misfortune of dealing with a couple of more injuries and having the quintet of Drew Doughty, Alec Martinez, Jake Muzzin, Robyn Regehr and Slava Voynov all firmly planted in front of him on Darryl Sutter's depth chart.

With the writing pretty much on the wall in LA and his former club likely in the market for a 6"3" / 230 pound hard-nosed defenceman, a potential homecoming could make perfect sense for both parties. There is no question that Craig MacTavish will be doing his very best to acquire at least one, if not two, top flight defencemen during the upcoming NHL offseason.

That said, MacT would likely love nothing more than to be given the opportunity to ink a blueliner like Greene to a reasonable extension. If the Oilers GM could go out and accomplish exactly that during the summer of 2014, while still upgrading the top half of his defensive core, my guess is he would be pretty darn excited with his handy work.

While the big American has his limitations as a player and still tends to struggle when up against quicker skilled forwards, his willingness to engage physically and make things uncomfortable for any opponent interested in getting close to the front of the Oilers net would most certainly make him a welcomed addition in the eyes of most fans and head coach Dallas Eakins.

In theory, he would become the "Matt Hendricks" of Edmonton's blueline. That may not be to everyone's liking but it would be the sort of move that would appear to fall in line with the type of roster both the coach and GM seem ready to move towards building. It is no secret that this organization will be looking to add a certain kind of player prior to the start of next season.

In a perfect world, the Oilers would love to add a bigger bodied player who not only possesses strong leadership qualities but is also one tough SOB on ice. Matt Greene qualifies on all three of those fronts and he is a right-handed shooting defenceman to boot…something which is kind of rare in this neck of the woods.