| | |
| --- | --- |
| | |
Oilers: Eberle and Nugent-Hopkins come to life with Yakupov out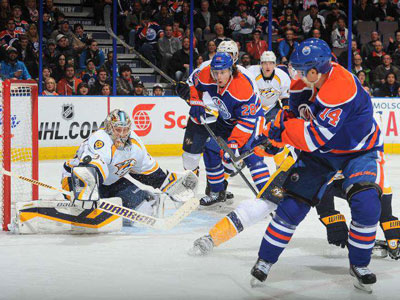 Edmonton - March 19, 2014 - A couple of days back I wrote a piece focusing on the need for Edmonton Oilers head coach Dallas Eakins to change up the look of his top two lines.

While he did exactly that prior to Tuesday night's tilt with the Nashville Predators, it was a move which was forced upon him due to Nail Yakupov's sore ankle.

Hopefully yesterday's 5-1 victory was a bit of an eye opener for the rookie coach, as he watched the duo of Jordan Eberle and Ryan Nugent-Hopkins put together their finest performance in weeks against Barrie Trotz struggling side.

Of course there will be those who will automatically look to Yakupov as being the problem, when in reality it was nothing more than Eakins' stubbornness that allowed the trio's poor play to continue.

As far as potential top six wingers go on this team, Jordan Eberle and Nail Yakupov are by far and away the most defensively challenged.

Both are complimentary players as opposed to guys who can drive a line and both need help from their linemates to create offence.

With that being the case, maybe putting them on the same line wouldn't be the smartest of moves.

Apparently someone within the Oilers coaching staff felt placing two one dimensional/struggling players with a centre who was not only in the midst of an ugly scoring slump of his own but one who already does much of the heavy lifting in the defensive zone when it comes to those receiving regular top six minutes. Can you say head scratcher?

Add to that the fact the three have never shown any sort of real chemistry at even strength and the decision made even less sense. So should any of us have really been surprised to see #14 & #93 take their game to another level with Anton Lander on their wing? The combination of adding the hard working and responsible Swede into the mix along with the opposition being the Predators, everything seemed to be line up perfectly for the slumping duo.

Both have enjoyed success over their careers against Nashville and that continued to be the case on Tuesday evening. Nugent-Hopkins brought his sixteen game goalless drought to an end with a second period power play marker and finished the night off with a three point night. Eberle matched that with a three point effort of his own, including a pair of third period goals to put this one to bed and bring Pekka Rinne's evening to an earlier end.

Just like that, the slump is a thing of the past and hopefully it will mark the end of the Eberle-RNH-Yakupov experiment. That said, if the talented Russian finds himself on one of the Oilers bottom two lines upon his return to the lineup, someone from up above will need to step in and have a chat with the rookie coach. These final twelve games are not about winning, there about developing their young players even further.

While Matt Hendricks did not play in the third period after suffering an apparent leg injury after blocking a Shea Weber bomb earlier in the night, he did manage to sit third among Oiler forwards in ice-time through the opening forty minutes. The veteran forward has been real good since being acquired for former starter Devan Dubnyk but the thought of him being handed more playing time than every forward not named Lander and Nugent-Hopkins is rather disturbing.

We are talking about a third/fourth line player getting more time than Taylor Hall. More time than Eberle. More time than Perron. Let's be serious here. Now a chunk of that ice-time did come on the penalty kill but if that were the case, one would think the top six would be given a push at 5 vs 5.

While this most recent run is nice to see, albeit rather ill-timed, no one should lose sight of the fact that Edmonton's current 10-4-3 record means absolutely nothing moving forward. These points are being earned in what is essentially garbage time in a one sided blow out.


3,468 Stories & Growing Daily...

To date HometownHockey.ca has posted a total of 3,468 hockey stories!

Be sure to check out our Columnists archives or, why not Contribute a Story yourself!



HometownHockey.ca

offers a very generous revenue sharing opportunity for our Columnists. If you are interested in learning more details about writing for us, please send us an

EMAIL.
Click on Photo or Story Title for more info
HometownHockey.ca News Database Last Updated:
Apr. 28, 2022 @ 11:52 AM EDT