| | |
| --- | --- |
| | |
Oilers give fans a night of misery they won't soon forget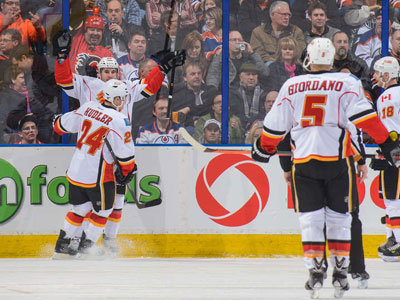 Edmonton - March 23, 2014 - As tough as this season has been on both the Edmonton Oilers and their fans, Saturday night's 8-1 thrashing at the hands of the Calgary Flames has to be regarded as the low point of what has been arguably the most disappointing campaign in franchise history.

As if being pumped for eight consecutive goals on home ice wasn't bad enough, Dallas Eakins' side proceeded to come out with an effort that none of them should soon forget.

While the Flames had almost everything go their way at Rexall Place last night, Edmonton could seemingly do nothing right over the final forty minutes of play.

After being rock solid in his first three starts in Oilers silks, netminder Viktor Fasth looked about as uncomfortable as one might expect for a guy who allowed five goals on sixteen shots in just over twenty-seven minutes of action. Ben Scrivens wasn't much better over the final thirty plus minutes, coughing up another three goals on the fifteen shots he faced.

This team has been carried by their goaltenders over the last two months of their schedule and the one time they needed some help from their teammates, no one showed up. It wasn't as if the Oilers simply lost to the Flames…they were out and out humiliated in their home rink and did so while on Hockey Night in Canada to boot.

When one considers this team currently sits n twentieth-ninth spot in league standings with 59 points and a 28-35-9 record, this loss was on a completely different level. As if losing by a score of 3-1 to the last place Buffalo Sabres on Thursday night wasn't bad enough, this one made that loss seem almost tolerable…which is frankly hard to believe.

For the third time this season, a fan decided to throw their jersey over the glass and onto the playing surface in protest of what they were watching unfold in front of their very own eyes. It didn't sit well with Scrivens, who promptly picked up the jersey with his goal stick and flung it back over the glass and into the crowd and it share as hell had better not be sitting well with anyone within the Oilers management group.

In my mind the whole throwing of the jersey onto the ice thing is flat-out ridiculous. One can surely understand the frustration levels for those who have had the misfortune of sitting through what has been as ugly an eight year run as any NHL franchise has had to endure in recent memory. That said, it doesn't make it any less embarrassing and it needs to stop…immediately.

The scary thing is, don't expect things to get much better over the final three weeks of the season. With Edmonton's remaining schedule being what it is, there could be a few more beatings coming in the not too distant future. They just pissed away their final two free spots on the ol' dance card, after taking advantage of what was likely their easiest stretch of games this season.

While this group may have appeared to have taken a few strides forward in their all-around game over their previous seventeen outings, these last two games tell a completely different story. In the grand scheme of things, these may turn out to be just another a pair of disappointing outcomes in a season filled with nothing but disappointment.

Regardless of how bad the Edmonton Oilers final ten games ultimately play out, it would be hard to imagine any of them coming close to what we saw transpire at Rexall Place last night. For the sake of the players, organization and their fans, let us hope that is indeed the case because this sure feels like rock bottom from here.


3,468 Stories & Growing Daily...

To date HometownHockey.ca has posted a total of 3,468 hockey stories!

Be sure to check out our Columnists archives or, why not Contribute a Story yourself!



HometownHockey.ca

offers a very generous revenue sharing opportunity for our Columnists. If you are interested in learning more details about writing for us, please send us an

EMAIL.
Click on Photo or Story Title for more info
HometownHockey.ca News Database Last Updated:
Apr. 28, 2022 @ 11:52 AM EDT