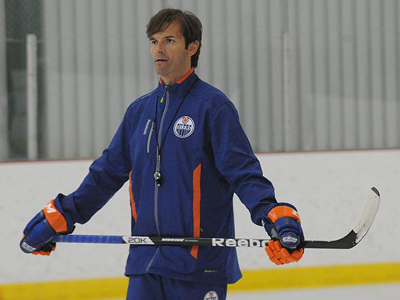 Edmonton - March 24, 2014 - Following the embarrassment that was the Edmonton Oilers 8-1 thrashing at the hands of the Calgary Flames on Saturday night at Rexall Place, I went out of my way to not write a single word about the Dallas Eakins and Taylor Hall incident which occurred late in the second period on the Oilers bench.

While the situation was frustrating to watch unfold, as my twitter feed will clearly backup, in my mind both the player and coach were out of line.

Clearly, Hall should not have tossed the water bottle down the bench nor should he have even engaged into any sort of back-and-forth with his head coach.

Having said that, I would far rather see the Oilers #4 show some sort of emotion in the midst of he and his teammates getting their collective asses kicked on home ice by their provincial rival, than have him sit idle and appear almost indifferent to yet another disappointing effort from this group of under achievers.

As far as Eakins goes, the fact he proceeded to not only call out his star player and verbally berate him in front of not only everyone in attendance but a nationally televised audience, one can't help but be a tad concerned.

Like Hall, the Oilers head coach allowed his emotions to get the better of him, which was frankly more than a little disappointing see. However, in fairness that game was arguably the lowest point of what has been a disastrous campaign for the rookie bench boss.

With that said, the fact he went on the sort of tirade which he did, instead of taking the high road and simply benching the player for the remainder of the period and dealing with the incident between periods, is a little troubling. What Hall did was unacceptable but for his head coach to react the way he did was far more appalling.

When a player pulls on that sweater he is no longer just representing the name plate on the back of that jersey but also the logo on the front it. Players have to be held to a standard and need to behave in a certain manner. That said, players need to know their coach has their back at all times and Eakins' mini-meltdown displayed the complete opposite.

That spectacle had zero to do with protecting his guys and everything to do with the individual blowing off steam. Did Dallas really need to go on in the manner which he did? Would telling the player to grab a seat at the end of the bench and simply towelling himself off not have been enough? Instead, he proceeded to verbally attack the team's star player, all the while going through the trouble of taking off his jacket and making it seem as though he had a bucket of water dumped over his head.

Kudos to David Perron for trying to keep Hall quiet after the kid took his coach's bait and started to engage in a back-and-forth on the bench. The potential for the situation to get out of hand was very real and thankfully Perron recognized it and did his part to defuse it as best as he could.

If the Edmonton Oilers organization had their way, my guess would be they would do almost anything to erase the debacle that occurred in their backyard on Saturday night.

Unfortunately, that isn't possible but for their sake, they had better hope Dallas Eakins' hasn't been knocked down another peg or two in that dressing room because if he has, Craig MacTavish will have no choice but to seriously consider doing what he has repeatedly said he won't do…that of course would be changing the head coach prior to the start of the 2014-15 season.