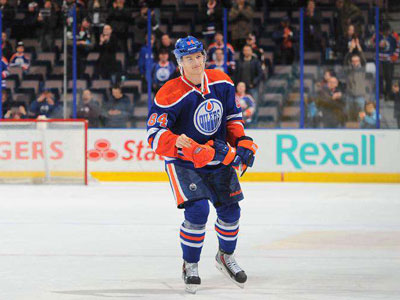 Edmonton - March 29, 2014 - After living through what was, at least in hockey terms, a week from hell, the Edmonton Oilers and their fans were due to for a little bit of good fortune on Friday evening at Rexall Place.

On a night in which former netminder Curtis Joseph was honored during another edition of the organization's "Once an Oiler, Always an Oiler", it was current starter Ben Scrivens who played the role of hero in Edmonton's 4-3 overtime win over the Anaheim Ducks.

While Scrivens stopped 48 of the 51 pucks fired his way, many of which were of the highlight reel variety, it was night in which the twenty-seven year old struggled mightily with his rebound control but also had the good fortune of the Ducks hitting three goal posts and watching his teammates pull another three pucks off his goal line…as the Oilers #30 was repeatedly swimming on his back.

On most nights, this sort of game would have likely turned into a three or four goal loss for Dallas Eakins' crew but for whatever reason, every bounce went they way of the team wearing Orange and Blue and to their credit, they made the most of their opportunity…a sight rarely seen by those in attendance or those tuning in across Oilers Nation.

As good as Scrivens was for the Oilers, Jonas Hiller had a night he would surely love to forget down at the other end of the rink. Anaheim's #1 guy looked uncomfortable from start to finish and ultimately allowed an absolute stinker in OT, as Andrew Ference's blast somehow found its way through the Ducks starting netminder with just over a minute remaining in the extra session.

Regardless of the outcome and how they go there, in my mind, there were three things that stood out above all else when it came to Mr. Eakins and his band of men on Friday evening:

Despite an almost unwillingness from the coaching staff to reunite the trio of Jordan Eberle, Taylor Hall and Ryan Nugent-Hopkins over the last number of weeks, it appears as though the time has come to let the big three carry the load for the remainder of the season. With Ales Hemsky being shipped out of town and Nail Yakupov out with injury, this roster has little to no offensive depth.

While the idea of spreading the wealth is all well and good, the only guy creating anything at all is the guy wearing the #4 on his back. Despite not being named one of last night's three stars. Hall was once again the Oilers best skater and as usual, it was by a very wide margin. Eakins has previously alluded to not wanting Eberle and RNH to rely on Hall to get there game going but the fact of the matter is, at the moment, there is no other choice.

It took the trio a matter of moments to find the back of the net after being reunited during period two against the Ducks and from that point on, they were a threat nearly every time they hit the ice. They may have their warts as a line but they are also the only unit capable of holding onto the puck with any sort of regularity and not always be in chase mode.

Oscar Klefbom is one hell of a player and the kid is doing exactly what myself and others were hoping he would do at this level. While he has had his fair share of ups and downs during his rookie campaign with the Oklahoma City Barons in the AHL, he has taken his game to a completely different level since arriving in the Alberta capital. Clearly, playing with better players suits the former nineteenth overall pick just fine.

Klefbom is just now becoming comfortable with his NHL skin and has looked damn impressive since being partnered with Justin Schultz along the Oilers blueline. His ability to not only transition the puck up ice but also move it out of harms way in his own end, has been something this defence has been lacking for sometime.

Last night had to have been pretty special for the kid, who not only hammered home the first goal of his career late in third but was than rewarded for his efforts with a massive ovation from the Oilers faithful in attendance at Rexall Place. It is a moment the youngster won't soon forget and one this organization was banking on taking place.

It is clear as day to anyone who watches this team with any sort of regularity that they need to add different pieces into their top two lines to help the kids hold their own against the likes of the Ducks duo of Ryan Getzlaf and Corey Perry. While those pieces won't be coming anytime soon, the fact the Oilers rookie bench boss decided to use a trio of Boyd Gordon, Matt Hendricks and Ryan Smyth against two of the leagues top players was both comical and frankly disturbing.

Obviously, Tyler Pitlick's injury played a part in the lines being shuffled around but this team is not equipped to put together a checking line as they are currently structured. However, if the head coach believes throwing three "veteran types" together is even a short-term answer, he is badly mistaken.

To his credit, Eakins did swap out both Hendricks and Smyth late in the third with Anton Lander and David Perron, who were at least capable of moving the puck out of their own zone and not killing Gordon in the process. It's not a perfect solution but if the plan is to use the "vets" down the stretch, especially against the powers of the Western Conference, this could get extremely ugly.