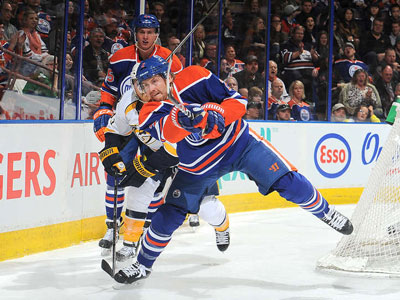 Edmonton - March 30, 2014 - When it comes to improving his NHL roster, Edmonton Oilers GM Craig MacTavish will have himself a rather lengthy to-do-list this summer and upgrading his blueline will likely be at the very top of that list.

Pulling off such a move won't be easy and in all likelihood, it will probably cost the organization one of Oscar Klefbom, Martin Marincin or Jeff Petry.

Should Edmonton be fortunate enough to get their hands on Barrie Colts defenceman Aaron Ekblad at the 2013 NHL Entry Draft, the likelihood that one of Klefbom or Marincin will be the guy leaving town are probably far greater.

As of this moment, their top two prospects on the backend are Justin Schultz and Darnell Nurse, though bringing Ekblad into the fold could and likely would change that.

With that said the chance of this organization moving any either one would appear to be slim and none. Meaning any one of the aforementioned trio of Klefom, Marincin and Petry could be in play, depending on the return.

All three bring a different element to the table and in a perfect world, MacTavish would love to keep all of them in Oilers silks but that could prove to be quite a challenge.

In Klefbom and Marincin, the Oilers GM has a couple of very attractive pieces to dangle in front of his fellow counterparts and you can bet all twenty-nine of them would absolutely love to add either into their respective organization. The question is not how good either one may ultimately become but rather what they are truly worth on the open market.

Both would certainly have value in a trade and depending on what or who would be leaving town with them, the package might be strong enough to help MacTavish bring in the sort of top pairing defenceman this team so desperately needs. In my mind, if the organization were forced into in either or situation, it would be a rather easy decision.

As good as Marincin has been during his initial run through the NHL, the twenty-two year old would most certainly be the odd man out. Unless MacTavish were able to somehow secure one of the truly elite defenceman in the NHL, there is next to no chance he coughs up the young Swede in any sort of packaged deal. While the towering Slovak looks as though he could very well turnout to be one of the Oilers finest second round picks in sometime, it just may not happen in the Alberta capital.

With Andrew Ference and Schultz guaranteed spots in 2014-15 and one of Klefbom or Marincin sliding into another, Edmonton will need three more names to round out their backend. The last thing this group needs to do is get any younger but the fact Petry is just a year away from being able to test the free agent market, perhaps moving the twenty-six year old would be the way to go.

Could a blueline featuring the likes of Ference, Klefbom, Marincin and Schultz hold their own in '14-'15? If MacT were to bring in marginal NHL quality talent as he did this season, than the answer to that question would be a resounding no. However, if he could somehow find himself a pair of guys who are still capable of playing top three minutes, while improving his forward group upfront, it might just be good enough to give them at least a fighting chance a competing in the Western Conference.

Losing Petry would certainly make things far tougher on Dallas Eakins and his coaching staff in the immediate future but for the long term benefit of the group, it could be the route his GM decides to go. There would most certainly be a ton of interest in the twenty-six year old around the league but whether the potential return would be enough to have MacTavish even consider making such a move is another story altogether.

Not matter how you look at it the Edmonton Oilers will be parting ways with a very good defenceman this summer, in hopes of helping this group take that next step in their development and finally become a team that can actually compete on a nightly basis. Let's hope Craig MacTavish makes the right call because if he doesn't, it could come back to haunt both him and the organization for years to come.