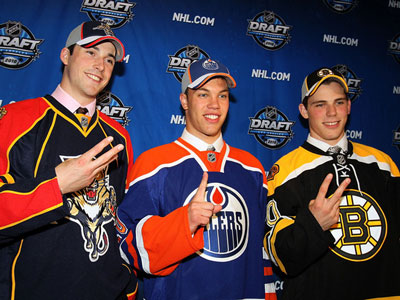 Edmonton - April 2, 2014 - I have seen it quite a bit over the last few months. It seems that when Oilers fans need something to gripe about, they bring up a few very specific things. Most of the time, the first thing that comes up is playoffs.

I'm entirely convinced that every time an Oilers fan brings up the classic "8 years no playoffs" routine, somewhere in the world, a Chicago Cubs fan dies of laughter. I am in no way excusing, the last decade of Oilers failures by any means. I am simply of the opinion that it's not my place to criticize. I am a fan of a team that takes the ice and plays the sport that I love in a professional setting. I have seen them beat teams that they have no place in beating. I have seen them lose to teams that they should have beaten.

On more than one occasion, I have seen them take the ice and appear to be lost, while on other nights, they play like a team I have never seen before. If I lived in Edmonton, I probably would find a way to attend as many home games as possible, but as I live a few thousand miles away, I will settle for the odd trip to Tampa, Sunrise, and Raleigh to watch the boys in Orange and Blue. I pay good money to be a fan of this team, and don't regret a dime. However, the difference between myself and a lot of Oilers fans, lie in that very sentiment.

A lot of fans believe that due to the amount of money they spend on watching the Oilers compete, that they are entitled to a winning team, and eventually an extended season. Any time the Oilers come out on home ice and get throttled by a better team, (has happened several times this season) my social media timelines fill with regrettable fans making the trek home from Rexall after-and in some cases during the games, usually after the 50/50 drawing has been held.

The complaints roll in and the playoff commentary is never far. This season has even seen a new low for some Oilers fans who have taken to the idea of desecrating the sacred Oilers crest, by discarding their jerseys onto the ice, before they leave the arena. If you want my full and honest opinion of this practice, it isn't hard to find on my various social media outlets, but let's just say, I am siding with Eakins, and more recently, Ben Scrivens on this one. That would be the same Ben Scrivens who has probably had his jersey for a less time than the fan that he visually reprimanded after flinging his jersey back over the boards into the stands.

Fans are upset, I get it. I'm upset too! I'm not upset enough to start a campaign to get members of management fired. I'm not upset enough to trash people verbally in public for their acts or opinions, and I'm certainly not upset enough to look for reasons to complain. As I have stated, there are fans that see things much differently than I do. More recently, the common complaint has been regarding the rebuild. Apparently, many believe that despite the announcement occurring, the proclamation being made, and the event being logged, the rebuild didn't start when the people rebuilding said it did. Apparently this rebuild has been happening since moments after the legendary cup run that the Oil fell just short of completing. The idea that some individual's opinions should outweigh the ACTUAL events of history is an absurdity in itself. There are, however many clues that indicate management may know a thing or two about their organization and the rebuild that they initiated, and ultimately have been participating in for the last 4 years.


2006-2007 Edmonton Oilers Season
Oilers execute a few transactions, none of which would indicate the first steps of a rebuild.


In the offseason, Chris Pronger all but demands a trade out of Edmonton. They deal him for two 1st round picks, a 2nd round pick, Joffrey Lupul(age 22) and Ladislav Smid(age 20). Despite the fact that Smid was a rookie in the NHL, he still played 77 games with the Oilers, and Joffrey Lupul suited up for the entire season. That is 3 picks, and 2 roster players for one of the best players that the Oilers have dealt since Gretzky. It's my opinion that a rebuilding team would have grabbed a lot more than 3 picks for a guy like Pronger.

Towards, the deadline, contract negotiations fall short, and the Oilers lose their game of chicken with Ryan Smyth and his agent. Oilers trade their leading scorer to the Islanders for 2 prospects (Ryan O'marra and Robert Nillson) and a 1st round pick. I could see both sides of the argument with that trade. I think ultimately, it was just a bad deal on the Oilers part that they felt forced into, but we move on.

In the draft, Oilers trade away 2 picks (4th and a 7th) to the Thrashers to move up to the 3rd round to grab Theo Peckham. Traditional rebuilds would discourage this sort of a move, as the team is sacrificing draft picks and getting fewer in return. If the Oilers were to be on the other side of that deal, I could smell "rebuild material," but they weren't, so I don't.

In another offseason move sending draft picks for roster players, the Oilers trade a 7th round pick to the Sabres for Jan Hejda(age 27). Here we have another move that isn't made by a rebuilding team. Approaching the deadline, the Oilers trade away veteran Marc-Andre Bergeron as well as a 3rd round draft pick for Denis Grebeshkov(age 22). Bergeron was dropping, and the Oilers were looking to upgrade the position. Another bad trade, but you know what they say about hindsight. Regardless of the quality, rebuilding teams just don't trade draft picks if they can avoid it, especially high ones.

Looking at the Free Agents that the Oilers lost in the season, you might think that the team was looking to begin a rebuild. That I will admit. All you have to do to realize that's not the case is look at who they picked up and who they re-signed.

Released-Jaroslav Spacek(age 32), Georges Laraque(age 29), Ty Conklin(age 30), Sergei Samsonov(age 27), Dan Smith(age 29), Michael Peca(age 32), Radek Dyvorak(age 29)

Signed-Marty Reasoner(age 29), Daniel Tjarnqvist(age 29), Petr Sykora(age 29),Petr Nedved(age 35)

The end result of free agency does not indicate rebuild, in any way. The Oilers also re-signed a few players in 2006. They gave 24 years of contract and $68 million in cap space spread out among 8 different players. Fernando Pisani(age 29), Dwayne Roloson(age 36), Shawn Horcoff(age 27), Jarrett Stoll(age 23), Ales Hemsky(age 22), Toby Petersen(age 27), Mathieu Roy(age 22), Joffrey Lupul(age 22)


Pretty good mix of young and old, but looking at the overall picture, there is no rebuild going on in that GM 's office.


2007-2008 Edmonton Oilers season
If it were actually true, for a rebuilding team, the Oilers really did quite well in the 2007-2008 season. They were able to bounce back from a tough year, and put themselves into the playoff hunt. Remember, the team only finished one game out of 8th place to make it in 07-08. That's not something a rebuilding team does.

Also, looking at the transactions from 07-08, I don't see a rebuild on the horizon there, either.


In the way of draft picks,The Oilers traded away two 2nd round picks, and a 1st round pick, and acquired a 1st and two 3rd round picks. They added a total of 8 players to the organization that averaged 28 years in age. They also signed 19 more years of contracts worth $26 Million to players that average 26 years in age. We also can't forget about the "Nylander disaster" of the offseason. Adding him to the team would have brought in yet another veteran at age 34. None of these moves are those that are made by a rebuilding team.


2008-2009 Edmonton Oilers season
No one in their right mind can say that a team one year removed from game 7 of the Stanley Cup Final, that had just finished 2 points out of a playoff spot, should be rebuilding, so the fact that some seem to think that they were, should come as a surprise. What wasn't a surprise was that despite the Oilers missing the playoffs for the second consecutive year, they finished just 5 points out of 8th place in the west. Still no reason to hit the panic button, which is why new GM Steve Tambellini, didn't.


In the way of draft picks, the Oilers traded away, a 5th round pick and a 2nd round pick for another 2nd round pick, and a 4th round pick. I'm starting to notice that draft picks weren't high on the priority list. As I have mentioned, that is paramount for rebuilding teams.

Also, once again, the common theme of adding a mix of prospects and veterans in play, as Edmonton trades for 8 players that average 26 years in age. They sent away the same mix of talent in 7 players that average 26 years in age. Are you seeing a team in year 3 of a rebuild? I'm not.



In the free agent categories, the Oilers released 3 players (average age of 27 years old), and signed 4 players (average age of 29 years old).


As far as re-signings go, the Oilers spent $36.9 Mililon spread over 18 years, among 7 players (average age of 24). This may be a little bit closer to a rebuild mentality, but the Oilers were not in dire circumstances to this point. It just doesn't fit the rebuild-stigma.


2009-2010 Edmonton Oilers Season
If you tried to tell me that the Oilers rebuild started to form at the end of the dreadful season that was 09-10, I wouldn't give you much of an argument. At some point, the team accepted that things were not looking good, and started changing their philosophy.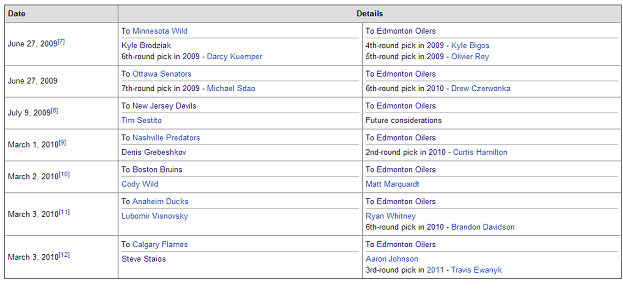 Notice that the Oilers brought in more draft picks than they traded away. They started acquiring younger talent while clearing some of their more tenured veterans. They started to make trades and acquisitions of a team that was facing the inevitability of a rebuild. The Oilers traded away 6 players with an average age of 26 years old. They acquired 3 players with an average age of 24 years old.

The team was also fairly active when it came to free agency.


The Oilers lost 4 free agents with an average age of 29 years old. They acquired 6 players with an average age of 27 years old. You can definitely see that there were steps taken in the offseason to try and make this team better. It was, unfortunately a lost cause, which is what sparked the ACTUAL rebuild.

Looking at the player signings from that year is where you see the rebuild mentality finally come into play.


The Oilers ended up spending $23.34 Million and 29 years on 17 players with an average age of 23 years old. Keep in mind that Jason Strudwick is on that list. Of the 17 players on that list, only 3 of them exceeded 25 years of age. If you are starting to see a little bit of a rebuild mentality now, (3 years after 2006) I don't blame you.


2010-2011 Edmonton Oilers Season
So here we are, at the ACTUAL announcement of a rebuild. Oil Change airs on television, the Oilers have a new head coach, a plethora of prospects and young players, and very few remnants of the legendary Stanley Cup Run of 2006. The Oilers also have the number 1 overall selection in the draft, which they use to select Taylor Hall. On top of adding Hall to the roster, Tambellini makes a few trades.


Oilers add a 1st, a 2nd, a 3rd, and 7th round draft pick at the expense of 2 6th round draft picks. Oilers bring in 4 players with an average age of 24 years, and traded away 4 players with an average age of 25 years.

These are moves that a rebuilding team makes.

The same can be said for their moves in free agency.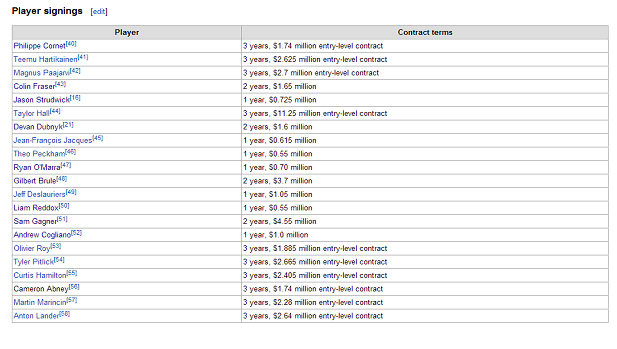 The Oilers added 13 free agents with an average age of 27 years. Of the 13 added players, only 3 of them ever got a chance to wear the Oil Drop in the regular season. On the other hand, the Oilers let 11 free agents go the other way with an average age of 28 years. There were 4 roster players on that list including the team's Captain. Once again, we see the "Cleaning house" effect of an organization in the beginning stages of a rebuild.

Looking at the player signings is where you really see the team putting stock in the young talent, as one would in a rebuild.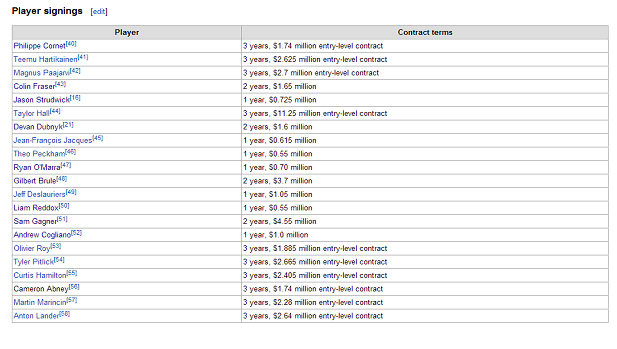 The Oilers signed 21 contracts in 2010-2011. The 21 players had an average age of 24 years. Of those 21 contracts, there were 10 entry level contracts. Most of the players on this list would have to wait to see NHL ice time, but of the ones that were part of the organization were certainly a big part of the Oilers rebuild.


In Summary
As you can very clearly see, the Oilers were not thinking rebuild until 2010. Perhaps they had set some things in motion, before the 2010-2011 season started, but there was certainly no rebuilding going on in 2007-2009. Teams that are rebuilding rely on draft picks, and young talent, while attempting to find who will be leaders in their organizations. That just wasn't the case until 2010.

Now, that does mean that the unfortunate reality is that the Oilers will still find a way to finish in the bottom of the standings, even 4 years after a rebuild. But much like in 2007, there is a reason to be excited for the future as an Oilers fan. There is finally a general manager in place who has a team-building mentality. There is a no-nonsense coach behind the bench that will be able to find success in the NHL. And, for the first time since the rebuild began, the Oilers finally have a fair amount of depth in their system. It's only a matter of time before all of these things culminate and some Oilers fans will stop trying to make up reasons to be upset.

Feel free to disagree with me on Twitter @Jthompson2380