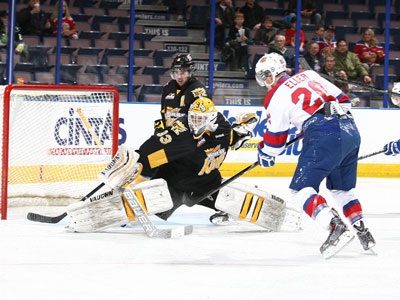 Edmonton - April 4, 2014 - After making quick work of the Prince Albert Raiders during the 1st round of the WHL Playoffs, some were curious if the Edmonton Oil Kings might come out flat in their 2nd round opener against the Brandon Wheat Kings.

Unfortunately for the visitors, Derek Laxdal's crew showed absolutely no sign of rust over at Rexall Place on Thursday night

While the Wheat Kings were coming off a first round sweep of their own, last night's 5-0 drubbing at the hands of the regular season Eastern Conference champs had to have been one hell of an eye-opener for Kelly McCrimmon's young squad.

Edmonton wasted little time in playing the role of an unfriendly host, as Brett Pollack and Mads Eller both found the back of the net before this one was even two and a half minutes old.

Pollack continued his solid playoff run, finishing off a splendid little feed from Edgars Kulda for his fourth of the post-season and gave the Kings the early lead they were looking for.

Eller would jump on loose puck a mere thirty-five seconds later, banging home his first of the playoffs to extend the lead to a pair, and in the blink-of-an-eye Edmonton had put two pucks in behind Brandon starter Jordan Papirny. In all honesty, this was your typical Oil Kings home ice showing, as Lexdal's band of youngsters dominated from start to finish...both on the scoreboard and the shot clock.

By the time the final buzzer mercifully sounded, the home side not only had a huge territorial advantage but also held a massive 41-15 advantage in shots on goal. While the Wheat Kings did generate some quality chances throughout the night, this wasn't one of those games you look back on and thank your lucky stars that you had Tristan Jarry in between the pipes In fact it turned out to be the complete opposite situation.

Edmonton kept coming in waves and were rewarded with three more goals over the final forty minutes of play, two of which came on the power play. That same power play that struggled mightily throughout much of the season with its consistency but suddenly came to life against the Raiders in the first round, clicking at the absurd rate of 42% over their first four playoff outings.

While they did not produce at the same clip against Brandon, going 2-for-7 on the man advantage isn't too shabby. That said, Papirny would likely love to have both of those goals back, as Ashton Sautner and Henrik Samuelsson slipped pucks past him that frankly had no business going in. It was a weird night for the local product, as he blocked forty of the forty-five shots fired his way but arguably coughed up three iffy goals against, including Kulda's even strength marker late in the second.

Be that as it may, this one was never even close and quite literally felt like a match up of Men vs Boys. One can only hope the Wheat Kings bounce back with a much more competitive showing on Saturday afternoon for Game Two or this series could turn into a repeat performance of the Oil Kings dismantling of Prince Albert.