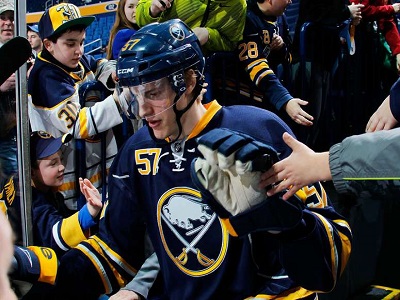 At the end of the day, Evander Kane got his wish and was traded away from the Winnipeg Jets to the Buffalo Sabres in what was a blockbuster deal. While the Sabres are likely thrilled with acquiring such a talented player, this trade could eventually go either way. The Jets did pick up a major piece in Tyler Myers in the deal and because of it, Winnipeg is unquestionably a better team in the here and now.
Edmonton - February 12, 2015 - The recent trade between the Winnipeg Jets and Buffalo Sabres reminds me of a phrase often referenced in business when you need to make a quick sale: first money is the best money.

So while the Buffalo Sabres likely weren't the first team to come calling, and definitely wouldn't have been the best package the Jets would have received had Kevin Cheveldayoff waited until the off-season to make a deal, the trade gives Winnipeg something to help them now and a lot to potentially help them down the road. What surprised me though is how quickly Chevy made a deal, which indicates to me he is under pressure to get his team into the playoffs.

Breaking down the trade, the Jets receive Drew Stafford, towering D-man Tyler Myers, prospects Joel Armia and Brendan Lemieux as well as a late first round-pick. The Sabres in turn receive the centerpiece that is Evander Kane, physical D-man Zach Bogosian, and goaltending prospect Jason Kasdorf.

In terms of receiving the best player(s) in this trade, there is no question that as of today the scales are tilted towards Buffalo. Evander Kane is still only 23 and is one of the youngest players in recent memory to score 30 goals, something he achieved back in 2011-12. Fast forward to next season, Kane will have the best forwards Buffalo has to offer as linemates, which could quite possibly include one Connor McDavid, meaning a return to a 25 goal/60 point pace seems very likely.

As for Bogosian, the trade raised a few eyebrows as it isn't easy to find a two way defensemen with his sort of potential. Patrick Kane of the Chicago Blackhawks commented he was very surprised Winnipeg gave up on Bogosian, however, if the whispers around Winnipeg are to be believed, Evander Kane was not the Jets' only problem child, and that is why Bogo was included in the deal.

Goaltending prospect Jason Kasdorf looks pretty much like a throw-in, but who knows, goalies can surprise.

The Jets in turn received a nice haul. Tyler Myers is the main asset that makes this deal look good in the here and now for Winnipeg. A recent Calder Trophy candidate, he still has oodles of potential and at 25 can still improve. The question now becomes, will he?

While still a young player by NHL standards, Myers has already played over 300 NHL games so he could be a lot closer to being a finished product than some might think. If that's the case, the Jets will be disappointed. However, if Myers morphs back to the form he displayed during his rookie campaign, the Pendulum swings back to Winnipeg.

Drew Stafford is a 29 year old winger who is on the down-side of his career but can still play a useful role. As Kane was essentially being used as a third line guy in Winnipeg, Stafford should have little issue sliding into that very role. While I can't see him signing in the off-season with the Jets, as this organization is loaded with prospects that will be pushing for roster spots, we shall see what happens.

The Jets also received a pair of prospects in Joel Armia and Brendan Lemieux. Not surprisingly, both look good, like many of Winnipeg's other forward prospects…just not exceptional.

Armia is a 2011 draft pick and has seen time in the AHL and is making steady improvement towards the NHL. A Finnish national, Armia has very nice numbers in the SM-Liiga and is producing at a roughly .5 ppg in the Jets farm team in St. Johns. He is described as a physical power forward who can put the puck in the net.

Lemieux, whose father and agent is former NHLer Claude Lemieux, is scoring collecting points at a nice clip (36G, 15A, 51pts In 47 games) for Barrie in the OHL. He looks to be a decent prospect but there is a slight concern that they may have picked up another problematic player as Lemieux was reportedly refusing to sign in Buffalo. Could the Sabres have possibly unloaded a problem child of their own in this deal?

The last asset heading to Winnipeg is the lowest of Buffalo's three first rounds picks at this year's draft. It will likely be somewhere in the 25-30 range, depending on where St. Louis or the New York Islanders finish. The Jets have among the best scouting staffs in all of hockey so I am confident they will find a player, though he likely won't make an impact on the big club for at least three to four years.

So at first glance, Winnipeg got the quantity but Buffalo got the quality. You can easily argue that the Jets became a better team as soon as Kane left their room and took his bad attitude with him. But if the stars align for both Kane and Bogosian, the Sabres could have found themselves a couple of pillars to help with their rebuild and quite possibly, move it along far quicker than previously expected.

As for Chevaldayoff, well, he did prove me wrong by acting decisively, but I don't believe his action was motivated out of character but rather the reality of the situation. There is no question that he is feeling the heat. In previous seasons he was watched playoff drives stall and refused to add help. This season he has a coach that is pushing him and an owner that is pressing as well. At this stage Winnipeg has to make the playoffs, and he knows it.

What would really be impressive is if he packaged some of his new assets in an effort to find some clutch scoring for the post-season and maybe he will, who knows. This is uncharted territory for this franchise and the prospect of taking part in the Stanley Cup Playoffs raises the bar for everyone in the organization. So if Chevy is in the vice…that is ok. If players and coaches feel the heat, management should as well and a moderate amount of pressure, more often than not, pushes everyone to be better.