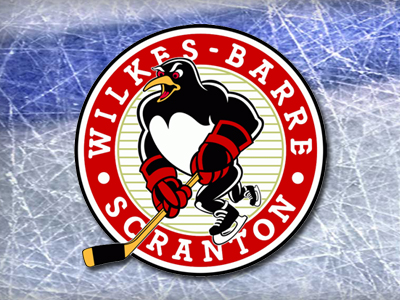 The WBS Penguins handed the Pirates the first and only power play of the period but killed it off nicely Matt Murray coming up big on a few saves
Wilkes-Barre - February 13, 2015 -
Tonight's game got off to a slow start in scoring that is action was end to end in the first period a very fast moving first period. The WBS Penguins handed the Pirates the first and only power play of the period but killed it off nicely Matt Murray coming up big on a few saves.
After one period was in the books it was all even at zero between the Pirates and the Penguins with two more periods to go.
The WBS Penguins would finally get a power play but not until late in the second period and Scott Wilson smokes one in past Mike Lee giving the Penguins a 1-0 lead. Again another fast paced period with lots of chances for both sides.
Matt Murray came up big with some great save for WBS during the second as well keeping his team on the advantage and keeping his shut out alive.
Third period saw more WBS Penguins scoring Scott Wilson would get the Penguins second of the game along with his second of the game putting him on HTA, the funny thing about Wilsons goals is that they were assisted by the same two first was Dumoulin and Sheary second goal was Sheary and Dumoulin. I wonder if there has ever been a hat trick assisted by the same players for every goal.
Andrew Ebbett got the Penguins third of the night making it a three nothing game. Portland didn't just lay down for the Pens they fought all the way Matt Murray did a spectacular job in net fending off all 23 shots the Pirates took earning his 6th shutout.
This Story and More on our blog -->PensFans4Ever<--