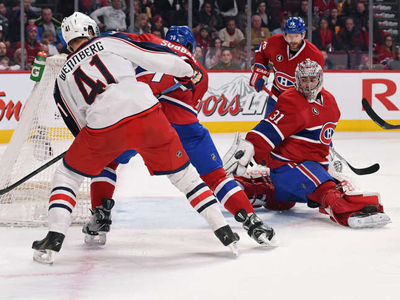 Jarred Tinordi displayed a lot of courage. But after leaving the ice with a bloody mouth he returned to the game with a full face mask. And he won't/can't fight with that on. Dear Brandon: It's Brian from CTV. I was wondering if you could do me a favour and teach Jarred how to protect himself better. Thanks. — BrianWilde (@BWildeCTV) February 22, 2015
Montreal - February 22, 2015 - Remember when Nathan Beaulieu was thought of (by some) as a possible bargaining chip in a trade?


THE GOOD
Nathan Beaulieu. Best defenseman on the ice. Slick pass to help give Habs 2-0 lead. Blocked six shots. You know how coaches always talk about the need to have guys step up when injuries start to mount? Beaulieu's average ice time the last three games - without Sergei Gonchar and Alexei Emelin - is 24:18. Taking on David Clarkson after Clarkson injured Gonchar seems to have propelled Beaulieu to yet another level.

Max Pacioretty. Among NHL left wingers there is Alex Ovechkin (38 goals) and Rick Nash (37 goals). And then Pacioretty (29). Now tied for 6th overall in goals scored. When you think of quick releases in the NHL Pacioretty has moved into that weighty area just below Ovechkin and Steven Stamkos. His most recent production spurt (6 points in 4 games) has vaulted him into the top 20 in scoring (18th with 52 points). And he continues to lead the league in Plus/Minus at +33. While New York hockey observers are pushing Rick Nash as a possible Hart Trophy winner, Pacioretty would be just as strong a candidate. If not for his teammate.

Carey Price. Starting to pull away from Pekka Rinne in a couple of key areas (GAA 1.91 to Rinne 2.01. Save Pct. is .935 Rinne .931. Save % 5 on 5 is .942. Rinne .940) while closing to within one victory (34-33) of the terrific Nashville goaltender.

Brendan Gallagher. He had his motor running right out of the gate, drawing a penalty then helping to set up Pacioretty's first goal. Had big Fedor Tyutin running around and draped all over him for much of the game. The Blue Jackets ended up with 46 hits.

@HunterZThompson sensing a pattern — todd burns (@toddburns1) February 22, 2015

Tom Gilbert. Solid again. Like his partner Beaulieu, Gilbert blocked six shots.

P.K. Subban. Clearly missing a gear since blocking that shot in Ottawa. But even a far less than 100% Subban is better than most NHL defensemen.

Andrei Markov. Yes he was beaten easily by Artem Anisimov on the Columbus goal scored by Nick Foligno but more than made up for it by setting up the first goal of the game and breaking up a Foligno - Ryan Johansson two on one early in the second period.

Andrei Markov may have one of,if not the best sticks in the NHL — Chris Nilan (@KnucklesNilan30) February 22, 2015

Christian Thomas. Finally had enough after getting bounced around the rink. Loved his reaction. And got a real kick out of the reaction on the Habs bench.

Jiri Sekac. Still hasn't scored since December (21 games), but maybe he's getting close after dinging a shot off the goalpost during a late first period power play. Nothing wrong with his game except, for now, his ability to finish.

Tomas Plekanec. Third shorthanded goal of the season iced the game. This was one breakaway Plekanec was not going to miss.

PK Unit. Blanked another top power play unit (Columbus 6th in NHL at 21.6%) and Plekanec's insurance marker came during a late delay of game call against Markov.


THE BAD
Lars Eller. Not even a move to left wing alongside Plekanec has been able to awaken Eller from his slumber (one point in 20 games). In fact, his presence - instead of the ailing Alex Galchenyuk - has resulted in a less than threatening Plekanec. Maybe Eric Gryba spooked him again. He's a team worst -11. If Eller can't play a stronger game Tuesday in St. Louis against the team that traded him, then you have to wonder where his immediate future might take him.


THE UGLY
Jarred Tinordi displayed a lot of courage. But after leaving the ice with a bloody mouth he returned to the game with a full face mask. And he won't/can't fight with that on.

Dear Brandon: It's Brian from CTV. I was wondering if you could do me a favour & teach Jarred how to protect himself better. Thanks. — BrianWilde (@BWildeCTV) February 22, 2015