| | |
| --- | --- |
| | |
Jets: Tlusty Trade Has Familiar Vibe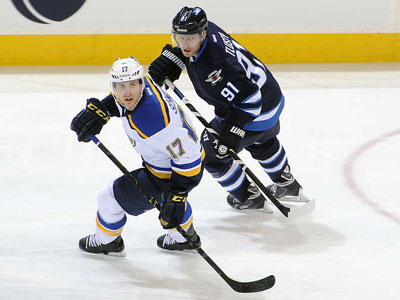 Looking at the Winnipeg Jets most recent trade for Carolina Hurricanes forward Jiri Tlusty, one cannot help but begin to notice a pattern. For the second time this season, it looks as though general manager Kevin Cheveldayoff has used Paul Maurice as a tool in helping decide whether or not he would go out and acquire a player via trade.
Edmonton - March 1, 2015 - Looking at the Winnipeg Jets most recent trade for Carolina Hurricanes forward Jiri Tlusty, one cannot help but begin to notice a pattern.

In two of Cheveldayoff's three trades this season, there is one- sided value. That is evident in Winnipeg's trade with Carolina where a 2016 third round pick and a sixth rounder in this year's draft was given up for the player.

In my mind, any time you gain an actual NHL player for the unknown of a mid-round pick, you're winning. This is especially true of the Jets who have a fair number of prospects knocking on promotion's door, but not that many identifying themselves as clear cut National Hockey League players.

As for Tlusty, he has meandered his way into the league but there is still some potential there. A former first round pick of the Toronto Maple Leafs (16th overall in 2006) he has put up point per game numbers in minors, as well as 23 goal/38 point showing in 48 games during the lockout shortened 2013 campaign.

The Jets biggest need was to add a healthy body to counter the rash of injuries that have hindered their forward group. In that respect you have to say mission accomplished. A nice bonus is that while Tlusty may be considered your typical enigmatic euro forward, he reportedly knows his way around the defensive zone, and may have the ability to transition with relative ease into the Jets defensive system.

The trade also illustrates the general manager's immediate-need based activity which is clearly spurred by a "make the playoffs or else" mentality.

But the biggest pattern I am observing is that when Cheveldayoff needs that productive value trade, he is going to look at Carolina. And when he is heading in that direction to make a deal, the question that begs an answer is how much influence does/did Paul Maurice have? We saw it earlier in the season when the Jets traded for Jay Harrison when their blueline was decimated by injuries. In that trade the local talk indicated the GM would trade a part of his fourth-line to gain a functional blueliner.

Sounded like a tall order at the time but Cheveldayoff pulled it off, landing Harrison for a sixth round pick and Harrison held the fort until reinforcements arrived. So the link between the Jets and Carolina would appear to be Maurice. The head coach openly admitted to being at the trade table during the Harrison deal and suggested the veteran rearguard, which is who the team went with.

Admittedly the Maurice influence is not quite so pronounced in the Tlusty move but Maurice did coach him for part of the 2011-12 season and is obviously familiar with the player. So looking at the trades brokered by the Jets this year it is hard to gauge whether Cheveldayoff is working in complete independence, or under some influence by his head coach. Chevy would not be the first GM to work closely with his coach but this situation seems a bit of an exaggerated case.

In the end, the Jiri Tlusty trade is a good one for the Winnipeg Jets. They did not give up a lot and picked up a useful asset who can provide support until injuries return, or perhaps provide some timely scoring in the playoffs. Nonetheless, from my vantage point, I am less inclined to give all the credit to Kevin Cheveldayoff but rather to the tandem of head coach and GM. One thing we know for sure, the heat is on for this group to make the playoffs and if they don't make it, there may be more personnel changes coming in the off-season and not just on the ice.


---

---
---

---
3,472 Hockey Stories so far,
and Growing Daily!

#
PLAYER
TM
GP
PTS
PPG
&nbsp
McDavid, Connor&nbsp
82
153
1.87
&nbsp
Draisaitl, Leon&nbsp
80
128
1.60
&nbsp
Kucherov, Nikita&nbsp
82
113
1.38
&nbsp
Pastrnak, David&nbsp
82
113
1.38
&nbsp
MacKinnon, Nathan&nbsp
71
111
1.56
&nbsp
Tkachuk, Matthew&nbsp
79
109
1.38
&nbsp
Robertson, Jason&nbsp
82
109
1.33
&nbsp
Rantanen, Mikko&nbsp
82
105
1.28
&nbsp
Nugent-Hopkins, Ryan&nbsp
82
104
1.27
&nbsp
Pettersson, Elias&nbsp
80
102
1.28
Stat Database Last Updated:
Sep. 26, 2023 @ 6:21 AM EDT