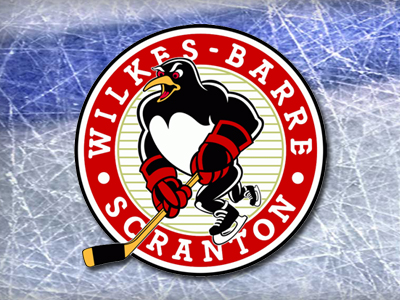 Matt Murray was standing tall in the WBS net stopping all eight of the shots he faced in the first period
Wilkes-Barre - March 7, 2015 -
It was back and forth action for the beginning of this afternoons game the WBS Penguins looking to get at least one game out of the two weekend games in Manchester the Monarch's looking to blank the Pens taking both home games on the weekend. WBS seemed to pick up the play as the period went, late in the period Dominik Uher caused a turnover and the puck happened to go right on Matia Marcantuoni stick, Marcantuoni fired it past Patrik  Bartosak putting the Pens on the board 1-0.
Matt Murray was standing tall in the WBS net stopping all eight of the shots he faced in the first period, heading off for the first break the Penguins were leading one to none.
Conor Sheary would put the Penguins up by two just under seven minutes into the second frame giving the Penguins a little wiggle room, but Manchester is not a team you want to relax against there is a reason they are where they are.
WBS kept the pressure on the Monarch's playing a better defensive game this afternoon than last night it seemed really coming down on the Manchester offense, Manchester had a great chance in the second as Payrel took a late roughing penalty giving the Monarchs a power play with carry over time but the Penguins snuffed it out keeping the 2-0 lead. Matt Murray holding on to his streak.
Manchester came out loaded for bear in the third looking to get something on the boards, after all they seemed to have the Penguins number from the night before. The WBS Penguins just sealed off the openings, Matt Murray doing his usual stellar job in net keeping all 17 of Manchester's shots out of the net that is including 3 power plays and a penalty shot. WBS would score a third goal just nine minutes into the third a shorty none the less as Tommy Kuhnhackl finds the puck takes it in all alone and backhands in through the five hole of Batonsak Pens up now 3-0.
All in all not the best start on the weekend yesterday for WBS with the loss in Manchester but a better day today with some redemption and a nice SO win for Matt Murray who now has 9 shutouts 4 consecutive  and is heading into AHL history, so it is a good weekend so far for WBS.