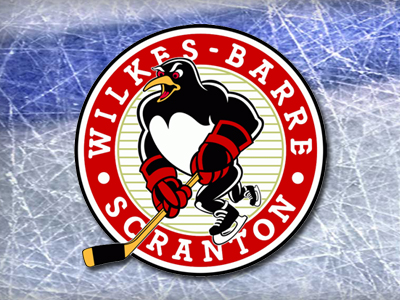 WBS's Matt Murray adding to his total and the by holding the line for the most consecutive minutes of disallowed goals
Wilkes-Barre - March 8, 2015 -
Matt Murray was between the pipes for the WBS Penguins this afternoon looking to better his streak the Falcons looking to put and end to it.
The WBS Penguins would get in the boards first this afternoon capitalizing on a power play, Tom Kostopoulos would get the tally at 11:63.  There would be more action but no more scoring for the first period WBS's Matt Murray adding to his total and the by holding the line for the most consecutive minutes of disallowed goals
Adam Payerl would get the Pens second goal of the game batting home a rebound Penguins taking a 2-0 lead just 6:38 into the second period.
Carter Rowney would get whistled for delay of game giving the Falcons a power play but the WBS penalty kill would hold Matt Murray coming up big with some door step saves.   Chorney would give Springfield another shot on the power play getting whistled for tripping but the WBS penalty kill does its job.
Andrew Ebbett just after the penalty expired came in fell to one knee and goes top shelf over Oscar Dansk making it 3-0 nearing the final minutes of the second period.  Scott Wilson sets Megna up late in the second but Oscar Dansk comes up with a huge save. The second ends Pens leading 3-0.
Payerl  would give the Falcons a great chance taking yet another penalty but Matt Murray would come up once again with some great saves and the Penguins PK would help out keeping the SO alive and minutes adding to Murray's new AHL record. WBS getting a few more chances to get goal #4 with back to back power plays from Springfield, Dansk coming up with some big saves for the first power play and would keep the Pens out for the second as well. Just as the WBS power play runs out PL3 throws one off the back wall gets his own rebound and smokes one past Dansk for his second of the season and the Pens 4th of the game making it 4-0 WBS.
The falcons would score late in the third bringing Matt Murray's SO streak to an end the New AHL record now sits at an amazing 304:11 beating out Barry Brust''s record of 268:17 back in 2012-13.
The WBS Penguins would take the win and four points out of a possible six on the weekend, not a bad weekend for the boys who will now head home to face the Hershey Bears on 3/11/15.