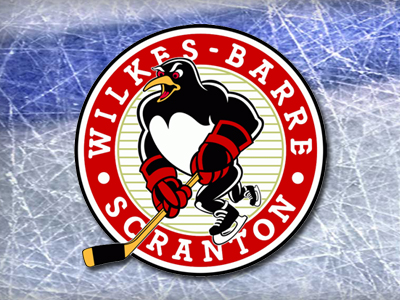 It was the classic WBS Hershey Bears showdown tonight at the Mohegan Sun Arena at Casey Plaza a decent midweek crowd
Wilkes-Barre - March 11, 2015 -
It was the classic WBS Hershey Bears showdown tonight at the Mohegan Sun Arena at Casey Plaza a decent midweek crowd a contingent of Bears fans were on hand as well tonight.
It was the WBS Penguins getting on the boards first Jayson Megna  put one past Hershey's Grubauer but it was waived off immediately by the ref and play carried on.  A little while after Hershey was called for a hook the goal reviewed and awarded to WBS, Penguins up one to none.
The Hershey Bears would even it up a few minutes later as they got one past Matt Murray. At the buzzer it was still even 1-1 Hershey out shot WBS for the first period 14-7 but the Pens were looking good.
Beginning of the second period seemed like the ice was tipped toward the WBS Penguins end as the Pens were having trouble clearing the zone but eventually got the job done. Hershey would get the go ahead goal on a fast break two on one Dustin Gazley would get the tally.
The WBS Penguins would start buzzing in the Hershey end seeming to gain momentum, hard work paid off for WBS as Barry Goers sank the Penguins second goal making it 2-2 late in the second. That's where it would end heading off for the second intermission WBS looking at 20 more minutes to gain the edge.
Hershey would tally a third goal making it 3-2 Bears early in the third, but the WBS Penguins fires right back with a goal of their own as Matia Marcantuoni evened things up at three each.Matt Murray got called for a trip giving the Bears a chance to go up a goal but the WBS PK holds and kills it.
Later in the period Tom Kostopoulos gives the Pens a 4-3 lead giving the Penguins a lift and momentum. Hershey would take a third TMM penalty giving the Pens a power play until the end of regulation and guess what, yep the Pens take advantage. Conor Sheary would get the Penguins 5th of the game making it 5-3 WBS for the win.
Coaches interview after tonight's win against the Hershey Bears