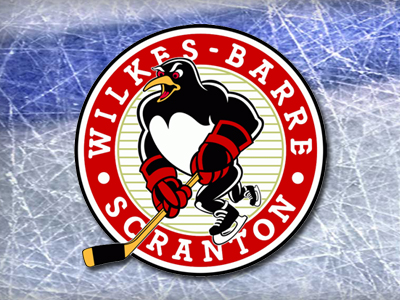 Matt Murray named AHL's Outstanding Rookie. WBS Penguin Fans Saw This Coming A Mile Away.
Wilkes-Barre - April 14, 2015 -
The Wilkes-Barre/Scranton Penguins, in conjunction with American Hockey League, announced today that the goaltender Matt Murray has been voted the winner of the Dudley (Red) Garrett Memorial Award as the AHL's outstanding rookie for the 2014-15 season. The award is voted on by AHL coaches, players and media in each of the league's 30 member cities.
A third-round draft pick by Pittsburgh in 2012, Murray has spent much of his rookie season rewriting the AHL's record book. The 20-year-old native of Thunder Bay, Ont., is 25-9-3 in 39 appearances for Wilkes-Barre/Scranton while leading the league with a 1.51 goals-against average, a .943 save percentage and 12 shutouts, more than any other rookie goaltender in AHL history. From Feb. 8 to Mar. 8, Murray held Penguins opponents off the scoreboard for 304 minutes and 11 seconds, the longest shutout streak by a goaltender in the AHL's 79-year history.
The first player in Wilkes-Barre/Scranton's 16-year history to be selected the league's outstanding rookie, Murray has also twice been named both CCM/AHL Player of the Week and CCM/AHL Goaltender of the Month, and last week earned AHL All-Rookie Team and AHL All-Star First Team honors.
This award, which was first presented by the AHL in 1947, honors the late Dudley (Red) Garrett, a promising young player who lost his life during World War II while serving in the Royal Canadian Navy. Garrett split his only pro season, 1942-43, between the AHL's Providence Reds and the NHL's New York Rangers.
Previous winners of the Garrett Award include Terry Sawchuk (1949), Wally Hergesheimer (1951), Jimmy Anderson (1955), Bill Sweeney (1958), Roger Crozier (1964), Gerry Desjardins (1968), Rick Middleton (1974), Darryl Sutter (1980), Pelle Lindbergh (1981), Steve Thomas (1985), Ron Hextall (1986), Brett Hull (1987), Felix Potvin (1992), Corey Hirsch (1993), Darcy Tucker (1996), Daniel Briere (1998), Rene Bourque (2005), Teddy Purcell (2008), Nathan Gerbe (2009), Tyler Ennis (2010), Luke Adam (2011), Cory Conacher (2012), Tyler Toffoli (2013) and Curtis McKenzie (2014).