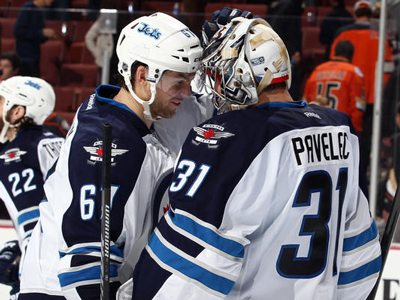 While the Winnipeg Jets will have their hands full with the Anaheim Ducks during what is arguably the most highly anticipated first round series, their chances of advancing to the second round of the post-season will ultimately come down to the play of netminder Ondrej Pavelec.
Edmonton - April 17, 2015 - All things considered, the Winnipeg Jets' goaltending situation turned out pretty good for 2014-15, even though it did not look like that would be the case.

Entering last season, the Jets had Ondrej Pavelec coming off a subpar season with a mediocre .901 save percentage, and a raw rookie in Michael Hutchinson. An inexperienced goalie, paired with a struggling veteran could have easily been a disaster (see what happened in Edmonton) and fortunately for Winnipeg, disaster was averted.

Instead, Pav started the season strong, playing the majority of the first 20 games, then faltered, gave way to Hutchinson for the middle half of the season. After giving up a fluke goal, he wrestled the starting job back and threw the team on his back and pulled them into the playoffs with three shutouts in his last five games.

You could not have written a better script. The question now is, can he carry his team deep into the playoffs?

And my answer to that question is, yes, at least for one round. As a result, I am predicting the Jets will upset the Ducks (6 games) and Pav will be strong. And the series win will not be all Pavelec although he will need to play his best hockey. In their favor, the Jets are a big burly and mean team that is well suited to play in the playoffs. They are also supported by opportunistic scoring and arguably the best defensive depth in the conference. Pavelec's consistency is still in question, so I don't see success beyond one round, but that one round would be best this franchise has seen in some time.

While veteran netminder's ability to rebound is somewhat surprising, it can be explained. He is at his best when he's fresh and hungry, and the unintentional benefit of losing his starting job for a long stretch meant that he was rested. His motivation came from a different place. First his play began to drop, he sat, he sulked (very briefly), got pissed off, then focussed, and finally finished the season strong with a dollop of confidence.

And I would predict that confidence, a slight experience edge, and the mental toughness that comes with maturity, will allow Ondrej Pavelec to out-goal his opposition. I don't know if he can sustain his play long enough for the Winnipeg Jets to make a run in the post-season, which is why the twenty-seven year old has yet to establish himself as an upper level goaltender in the National Hockey League. But if Pavelec were able to sustain his current level of play, all bets are off and the sky could very well be the limit for this club.