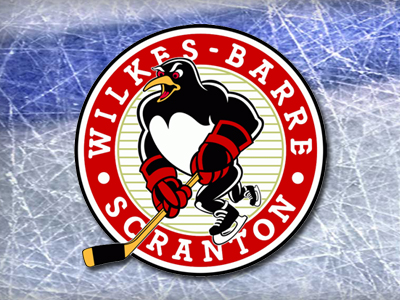 The WBS Penguins opened their 2015 Calder Cup Quest against the Syracuse Crunch
Wilkes-Barre - April 24, 2015 -
The WBS Penguins opened their 2015 Calder Cup Quest against the Syracuse Crunch tonight at the Mohegan Sun Arena at Casey Plaza.
The Penguins got off to a good start winning battles in the corners and creating chances but did not get the bounces they wee looking for, that is until later in the first period when Dominik Uher would take a centering pass from behind the goal and snap one past Gudlevskis making it one to none WBS.
The Penguins would rally again at the end of the first getting some good chances but but could not find the opening for the second goal heading off for the first intermission leading the Crunch 1-0.
The Penguins came on with a vengeance scoring three more goals in the second period Kasperi Kapanen made it two nothing just over six minutes into the period. Carter Rowney made it three nothing just seconds later getting a nice feed from Barry Goers as Rowney cherry picked the back post a one timer past Wilcox.
Kasperi Kapanen would make it 4-0 WBS going on HTA just over a minute later really getting the Penguins moving. Syracuse would tally one goal later in the second making it 4-1 as both sides headed for the dressing room between the second and third periods. WBS got 1:42 of carryover power play to start the third as Cote sat in the bin.
Danny Syvret would put the Penguins back to a four goal lead with his shot from the point just over twelve minutes into the third frame. Although the Crunch did their best to stir things up and get something going tonight the WBS Penguins had their number and played it well. Tonight's final was the WBS Penguins 5 the Syracuse Crunch 1.
Here are some of the post game interviews after the WBS win against Syracuse