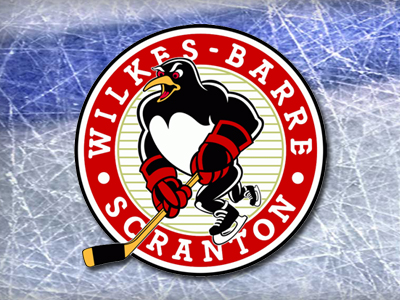 It was the WBS Penguins taking on the Manchester Monarchs in game three of round 2. WBS trailing in the series 2-0 coming into tonight's game looking at a need to win situation, or go down 3-0 and try to make a come back
Wilkes-Barre - May 9, 2015 -
It was the WBS Penguins taking on the Manchester Monarchs in game three of round 2. WBS trailing in the series 2-0 coming into tonight's game looking at a need to win situation, or go down 3-0 and try to make a come back
The WBS Penguins would get on the boards first tonight something they haven't done yet this series, a nice tic tac toe play by Sheary, Megna and ending with a nice shot by Brian Rust beating Berube putting the Pens up one to none.
Both sides traded power plays with both sides killing them off at the end of the first the WBS Penguins held a one goal lead something they have not done in this series yet.
It was a battle in the second the Monarchs looking to even up the score and the Penguins looking to get another goal. Hard work and winning battles paid off for WBS as Tom Kostopoulos would go top shelf on Berube on a rebounding puck making it two to nothing WBS.
Manchester would pick up the pace but WBS met the match and stepped up as well keeping it 2-0 through the end of the second. Manchester still out shooting WBS 18-16 but Matt Murray doing a stellar job in net for the Penguins has held the line so far.
The third period was more of the same WBS holding on to the 2 goal lead Matt Murray coming up big on some of his saves a few point blank snuffs as well, both sides getting chances on the power play but both PK's doing their jobs killing each other's power play off.
Manchester would tally a goal on a blown coverage by the Pens and a nice stretch pass by the Monarchs cutting the Penguins lead in half now 2-1. The WBS Penguins would hold the fort even with the Monarch's extra attacker on the ice for the last moments taking tonight's game three by the score of 2-1 forcing now a game 5.
That means 2 more home games here in WBS if you don't have your tickets now is the time to go get them. Playoff hockey if you have never been to a game is something you have to experience to explain.