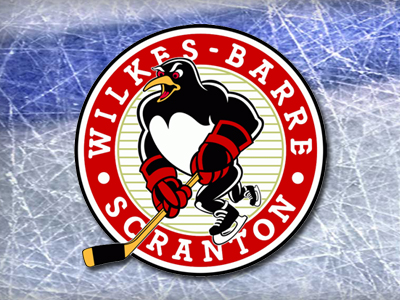 Jarry Helps Penguins Past Sound Tigers Stopping 35 Of 36
Wilkes-Barre - October 18, 2015 -
Jarry Helps Penguins Past Sound Tigers Stopping 35 Of 36
Tonight the WBS Penguins took to the road to take on the Bridge Port Sound Tigers, tonight Tristan Jarry would get the start in net his first Pro start.
Not a bad start to tonight's game both squads getting some chances early on but nothing in the way of scoring. WBS would get the first power play of tonight's game as Archibald got interfered with and that would be enough to let Kael Mouillerat put one home giving the WBS Penguins the 1-0 lead on a power play goal. WBS gets another chance on the power play just minutes later as Scott Mayfield gets whistled for a rough but the Sound Tigers hold tight on this one.
Oskar Sundqvist would put the Pens up 2-0 with a tip in later in the first and that would be about it for the first period. WBS taking a 2-0 lead to the dressing room for the first intermission.
WBS would continue scoring in the second period as well Tom Sestito would tally the Penguins third goal making it 3-0 WBS and giving the boys a little breathing room. The Sound Tigers would cut it to a two goal lead on a power play goal but WBS would answer back just 5 minutes later with a Conor Sheary power play goal giving the Pens a three goal lead again now 4-1 WBS.
That would be all she wrote for the second frame once again the WBS Penguins leaving the ice for the break leadinbg the sound tigers this time it is 4-1 looking at 20 more minutes of hockey left in regulation. Not a lead they want to sit on considering the last meeting between these two clubs left the Penguins licking their wounds.
Third period the Penguins stayed tough Carter Rowney tallied the Penguins fifth goal of the night making it 5-1 just 6:38 in, WBS would go on a penalty binge handing the Sound Tigers some glorious chances but the WBS PK held it's ground and Jarry did a great jobe in net.
The final tonight the WBS Penguins 5 the Bridgeport sound Tigers 1 Tristan Jarry stops 35 out of 36 shots for his first pro game making a nice impression and showing his team he is there for them.