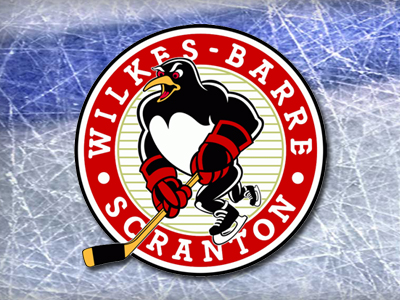 Kuhnhackl On HTA and Matt Murray Stopping 41 of 43 to Help Penguins In Win
Wilkes-Barre - November 4, 2015 -
>Kuhnhackl On HTA and Matt Murray Stopping 41 of 43 to Help Penguins In Win
The St. John IceCaps came to town tonight toi take on your WBS Penguins at the Mohegan Sun Arena at Casey Plaza. The WBS Penguins were the first to get on the boards tonight as Tom Kuhnhackl took a nice feed from J. S. Dea on a fast break to snap one past Zachary Fucale WBS up one to none.
At 10:57 of the first Scott Wilson would get whistled for high sticking and put the IceCaps on the power play giving them the chance to even the score, and that they did just eleven seconds into the man advantage. At the first buzzer it was all knotted at one each.
Second period was a scoring exhibition put on by the WBS Penguins, starting just :44 seconds into the period Carter Rowney got the Pens go ahead goal making it 2-1.
J. S. Dea got the boys up 3-1 almost two minutes later. Tom Kuhnhackl tallied his second of the game going on HTA and putting the Pens up 4-1. That would be that the IceCaps pulled Fucale from the net and sent in Pasquale, that would solve the problem for the IceCaps, well....
Eleven minutes later David Warsofsky would let one go from just inside the blue line past Pasquale to make it 5-1 WBS. That as how the second would end WBS getting four goals in the second taking a commanding 5-1 lead to the dressing room.
Third period action, the IceCaps were looking to even things up seeming to pick up the action just a bit, but the Penguins were there to meet the challenge.
St. John's did tally a goal in the third at 11;56 of the period making it 5-2 but the WBS Penguins and Matt Murray proved to be the better squad on the ice tonight, squashing any attempt the IceCaps made to get more points on the boards even with an empty net extra attacker WBS held tight. That is how tonight's game ended the WBS Penguins taking it to the St. John's IceCaps 5-2