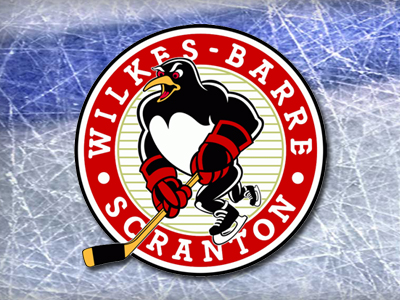 The Penguins would give the Wolf Pack the first power play of the night but kill it off nicely keeping it a 0-0 game. Hartford would be generous and hand the Pens a power play just shortly after
Mountain Top - February 12, 2016 -
The WBS Penguins traveled to Hartford tonight to take on the Wolf Pack at the XL Center. The Penguins would give the Wolf Pack the first power play of the night but kill it off nicely keeping it a 0-0 game. Hartford would be generous and hand the Pens a power play just shortly after they ended theirs, but WBS would not convert keeping it a 0-0 game. Kael Mouillierat would get the Penguins on the board putting one past Magnus Helberg Pens up 1-0.
Despite their efforts and out shooting the Penguins 11 to 7, the Wolf Pack retreated to the dressing room for the first intermission as Matt Murray and company kept the WBS Penguins out in front one to none.
Hartford came out looking to even this game up in the second but the Pens were holding on keeping their lead. Hartford Ryan Graves clears the puck over the glass drawing a delay of game penalty putting WBS on the power play, WBS would convert making it a 2-0 game Will O'Neill with the shot and Aton Zlobin getting the redirect tip in. After WBS give Hartford a few back to back power plays the Wolf Pack still trailed the Penguins 2-0.
The second period would draw to an end with the WBS Penguins taking their two to nothing lead to the dressing room still looking at twenty minutes left to play. The Hartford Wolf Pack wanting to mount a come back headed off the ice and you know they were thinking 20 more minutes.
The Penguins were holding their ground and almost went up 3-0 on a Magnus Helberg fluke as he almost put the puck in his own net as he played it from behind his own net. Just after that miscue Nick Jensen left all alone on the doorstep puts it past Murray to cut the Penguins lead in half now 2-1 WBS.
The Wolf Pack would pull Magnus Helberg for the extra attacker with just over a minute to play but try as they may it wouldn't be enough. The WBS Penguins would tally the empty net goal Sahir Gill would make it 3-1 WBS. Thats where we would end tonight the WBS Penguins coming home to take on the Portland Pirates who beat the Phantoms tonight.