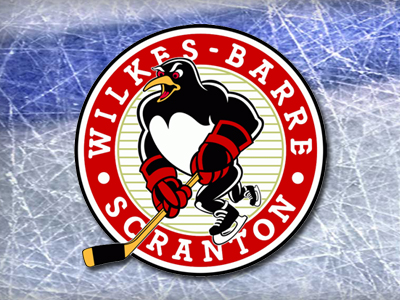 Penguins Fall To Bears Making Series Even 1-1. Penguins Face Hershey Again Tomorrow Night In WBS
Mountain Top - May 6, 2016 -
It would be the Hershey Bears getting on the boards first tonight in game two of round two, a short handed tally none the less making it a one to none game. It wouldn't be three minutes later the Bears strike again carter Camper putting a soft shot on net sneaking one past Casey DeSmith making it a 2-0 deficit for the Penguins.
WBS seemed to be a little sloppy in the first with some turnovers, one that cost them a goal not something we have seen from the boys in the past few games and something they need to figure out. Heading for the dressing room after one period WBS looking to make up the Bears two goal lead.
Penguins come out better in the second than they looked in the first, a little more energy and seemingly better puck management. Dustin Jeffrey getting a nice breakaway chance but Justin Peters shuts him down. WBS would give the Bears a unbelievable 5 on 3 chance to take a commanding lead during the second period, but would hold the line and kill both the 5 on 3 and the short 5 on 4.
At the second buzzer it was the WBS Penguins still trailing the Hershey Bears 2 - 0 but looking at twenty more minutes to play and starting the third with 1:26 of carry over power play.
WBS would not get anything out of the carryover and would trail the Bears throughout the entire third period. WBS would get some chances on net but Peters would see them all keeping the Bears out in front.
Even with the extra attacker WBS just not having the luck tonight dropping game two to the Bears 2-0 and heading home for games 3 and 4 at the Mohegan Sun Arena at Casey Plaza. Game three is tomorrow night get your tickets it's going to be a good game.