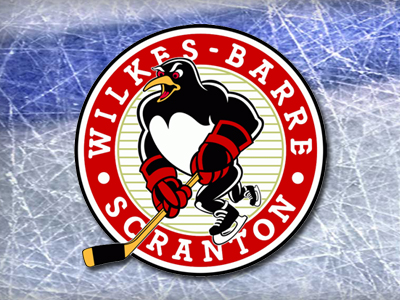 Penguins almost perfect tonight Casey DeSmith stopping 26 of 27 shots
Mountain Top - December 16, 2016 -
It was an end to end battle for the two clubs in the first period both Casey DeSmith and John Muse facing some challenges throughout but doing a nice job at keeping their side net empty. Ryan Haggerty had one of the Penguins beat shots 1 on 1 against Muse but could not find the opening. Oskar Sundqvist and Josh Archibald had a nice set up as well but again Muse slammed the door.
It wouldn't be until late in the first that Jake Guentzel would break the silence with a nice wrist shot from the hash marks beating Muse clean making it one to none for the WBS Penguins. That's how the first period would end, Tom Sestito and Tyson Strachan would give each other a few shoves here and there during the first as well but nothing more out of it.
Rochester came out looking to make its mark in the second but the Penguins weren't having it, snuffing every chance the Amerks had Casey DeSmith coming up large in several attempts. John Muse was doing a stellar job in net for the Americans as well but David Warsofsky found a way a nice shot from just inside the blue line made its way in and made it 2-0 WBS.
Later Josh Archibald would get a fast break, turning on the after burner coming in on Muse and beating him clean making it a 3-0 WBS lead. The Amerks would get a chance to get on the boards when late in the second the Pens gave them a 5 on 3 for 1:22 then a 5 on 4 for :38 but the Fabulous goal tending of Casey DeSmith along with the great WBS penalty kill kept it a 3-0 game to the buzzer.
It would take until the third period tonight before the Penguins would get a chance in the power play, not that it really mattered they were leading 3-0 at that point anyway and couldn't seem to find the recipe for a power play goal anyway. Lukas Bengtsson would tally his first goal of the season not long after making it a 4-0 WBS lead. Casey DeSmith was cruising through the period making some nice saves but towards the end of regulation the Americans just kept coming.
WBS was holding the line collapsing nicely on defense but just could not hold off the onslaught forever, the Rochester Americans would ruin the shutout with just 1:34 left in regulation. All in all a good game for WBS with a 4 to 1 victory.