Ducks extend Flyers' road woes with shootout win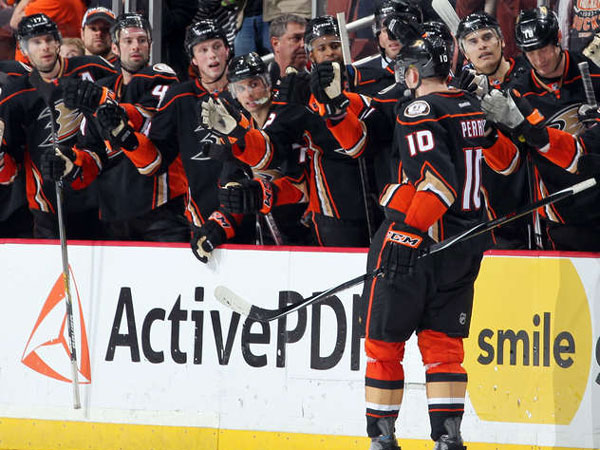 Anaheim - Dec. 4, 2014 - Corey Perry swooped in from the right side and used his shootout prowess to end a roller-coaster game at Honda Center.

Perry scored the deciding goal in the second round of the shootout and goalieFrederik Andersen stopped two of three attempts in the tiebreaker to help the Anaheim Ducks beat the Philadelphia Flyers 5-4 Wednesday night.


---

---
---

---
3,472 Hockey Stories so far,
and Growing Daily!

#
PLAYER
TM
GP
PTS
PPG
&nbsp
McDavid, Connor&nbsp
82
153
1.87
&nbsp
Draisaitl, Leon&nbsp
80
128
1.60
&nbsp
Kucherov, Nikita&nbsp
82
113
1.38
&nbsp
Pastrnak, David&nbsp
82
113
1.38
&nbsp
MacKinnon, Nathan&nbsp
71
111
1.56
&nbsp
Tkachuk, Matthew&nbsp
79
109
1.38
&nbsp
Robertson, Jason&nbsp
82
109
1.33
&nbsp
Rantanen, Mikko&nbsp
82
105
1.28
&nbsp
Nugent-Hopkins, Ryan&nbsp
82
104
1.27
&nbsp
Pettersson, Elias&nbsp
80
102
1.28
Stat Database Last Updated:
Sep. 26, 2023 @ 6:21 AM EDT