Depleted Devils defeat Maple Leafs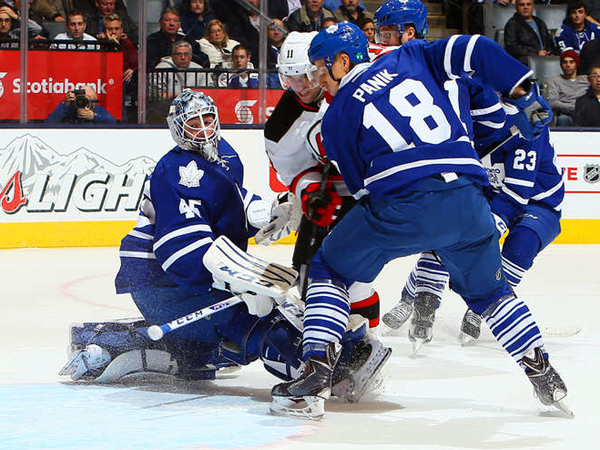 Toronto - Dec. 5, 2014 - The New Jersey Devils knew it was going to take a monumental effort to win Thursday, and that's exactly what they produced.

With seven regulars out of the lineup, the Devils defeated the Toronto Maple Leafs 5-3 at Air Canada Centre.

New Jersey (10-12-4) played without forward Jaromir Jagr, their top scorer with 15 points, who was knocked out of the game Tuesday against the Pittsburgh Penguins and missed this game with the flu, as did defenseman Adam Larsson.


---

---
---

---
3,452 Hockey Stories so far,
and Growing Daily!

#
PLAYER
TM
GP
PTS
PPG
&nbsp
Draisaitl, Leon&nbsp
69
110
1.59
&nbsp
McDavid, Connor&nbsp
63
96
1.52
&nbsp
Pastrnak, David&nbsp
69
94
1.36
&nbsp
Panarin, Artemi&nbsp
67
93
1.39
&nbsp
MacKinnon, Nathan&nbsp
68
93
1.37
&nbsp
Marchand, Brad&nbsp
69
86
1.25
&nbsp
Kucherov, Nikita&nbsp
67
84
1.25
&nbsp
Kane, Patrick&nbsp
69
82
1.19
&nbsp
Matthews, Auston&nbsp
69
79
1.14
&nbsp
Huberdeau, Jonathan&nbsp
68
78
1.15
Stat Database Last Updated:
Jul. 11, 2020 @ 9:48 AM EDT