Ehrhoff helps Penguins rally past Senators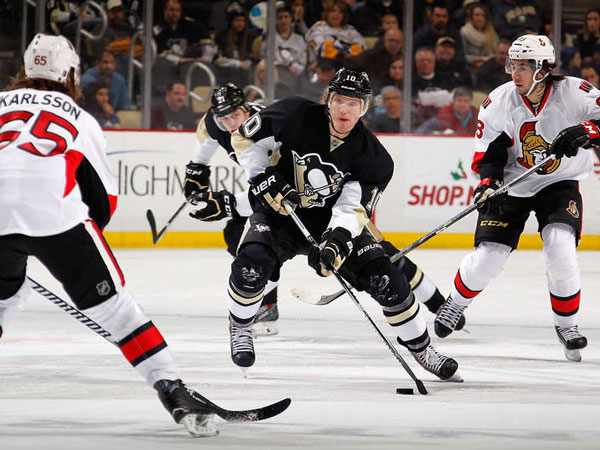 Pittsburgh - Dec. 7, 2014 - Christian Ehrhoff's late goal gave the Pittsburgh Penguins a 3-2 win against the Ottawa Senators at Consol Energy Center on Saturday.

Sidney Crosby controlled the puck behind the net before spinning out of traffic and skating down the left boards. Crosby backhanded a pass to Ehrhoff alone in the right faceoff circle.


---

---
---

---
3,472 Hockey Stories so far,
and Growing Daily!

#
PLAYER
TM
GP
PTS
PPG
&nbsp
McDavid, Connor&nbsp
82
153
1.87
&nbsp
Draisaitl, Leon&nbsp
80
128
1.60
&nbsp
Kucherov, Nikita&nbsp
82
113
1.38
&nbsp
Pastrnak, David&nbsp
82
113
1.38
&nbsp
MacKinnon, Nathan&nbsp
71
111
1.56
&nbsp
Tkachuk, Matthew&nbsp
79
109
1.38
&nbsp
Robertson, Jason&nbsp
82
109
1.33
&nbsp
Rantanen, Mikko&nbsp
82
105
1.28
&nbsp
Nugent-Hopkins, Ryan&nbsp
82
104
1.27
&nbsp
Pettersson, Elias&nbsp
80
102
1.28
Stat Database Last Updated:
Sep. 29, 2023 @ 12:07 PM EDT