Senators rally, top Canucks in OT to end skid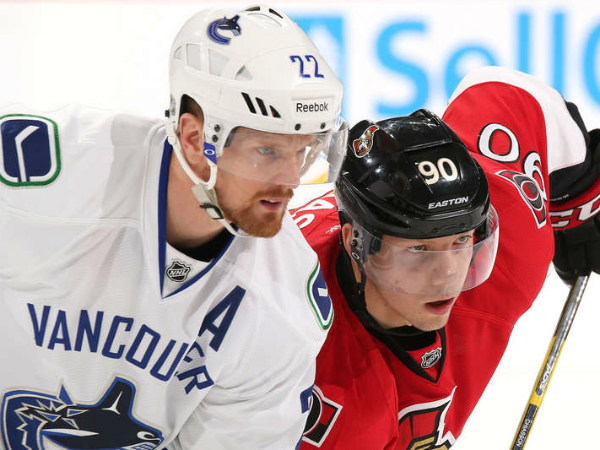 Ottawa - Dec. 8, 2014 - Erik Karlsson's goal at 1:21 of overtime Sunday, his 23rd shot attempt of the game, gave the Ottawa Senators a 4-3 win against the Vancouver Canucks at Canadian Tire Centre and ended the Senators' five-game losing streak.

Mika Zibanejad had two goals and two assists to help Ottawa overcome a 3-0 deficit. Zibanejad dropped the puck to Karlsson in the slot on the winner and the Senators captain sent a slap shot by Canucks goaltender Eddie Lack, who faced 45 shots, a season-high for the Senators.

It was the sixth game in a row the Senators entered the third period tied or in the lead and the first game they won in that stretch.


---

---
---

---
3,453 Hockey Stories so far,
and Growing Daily!

#
PLAYER
TM
GP
PTS
PPG
&nbsp
Draisaitl, Leon&nbsp
69
110
1.59
&nbsp
McDavid, Connor&nbsp
63
96
1.52
&nbsp
Pastrnak, David&nbsp
69
94
1.36
&nbsp
Panarin, Artemi&nbsp
67
93
1.39
&nbsp
MacKinnon, Nathan&nbsp
68
93
1.37
&nbsp
Marchand, Brad&nbsp
69
86
1.25
&nbsp
Kucherov, Nikita&nbsp
67
84
1.25
&nbsp
Kane, Patrick&nbsp
69
82
1.19
&nbsp
Matthews, Auston&nbsp
69
79
1.14
&nbsp
Huberdeau, Jonathan&nbsp
68
78
1.15
Stat Database Last Updated:
Jul. 11, 2020 @ 9:48 AM EDT