| | |
| --- | --- |
| | |
Congratulations to MPP-Elect Jim McDonell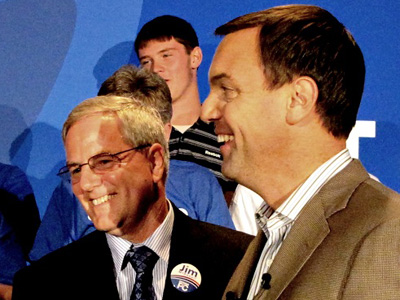 Cornwall - Oct. 6, 2011 - If I was playing major league baseball, I would be batting .500 after yesterday's predictions. I correctly predicted that Jim McDonell would become the next MPP for Stormont-Dundas-South Glengarry, but perhaps my core conservative beliefs lead me to be overly optimistic in suggesting that Tim Hudak would be the 25th Premier of Ontario.

I am very happy for Jim and his team and would like to congratulate him on his success tonight. I know first hand that many provincial conservatives have worked very hard over the last number of years to elect a PC member in SDSG. Tonight is a night to celebrate their many, long hours of hard work.

I think the biggest surprise for many in this area, was not so much that McDonell emerged the victor but by how much he won by. McDonell received over 54% of the vote and earned results that are similar to the margins that MP Guy Lauzon has posted over the last number of elections.

It is no secret that the local Liberals were not pleased with the nomination of Mark MacDonald. There was a great deal of chatter heading into today's election that local Liberals would either not vote at all or move their support to NDP candidate Elaine MacDonald. This appears to have played out based on the close placement of the two MacDonalds.

Mark MacDonald tried hard to hold on to MPP Jim Brownell's support, but clearly that support was specific to Jim and not the Liberals. In 2007, Brownell won the election with 18,660 votes and tonight MacDonald will struggle to earn half of that amount.

Four years ago, I had the privilege to carry the Ontario PC banner in this riding and through that experience I was able to build some great friendships with some fellow candidates. I was extremely pleased to see my friend Monte McNaughton earn the Lambton-Kent-Middlesex seat at Queen's Park by beating Liberal incumbent Maria Van Bommell. There are not many candidates that have worked harder than McNaughton, a former municipal councillor. He came close in 2007 and now in 2011 his hard work has paid off.

Congratulations to both Jim and Monte. I am very happy for both of these newly elected MPPs.

7,916 Stories & Growing Daily...
To date OurHometown.ca has posted a total of 7,916 stories! News, sports, hockey, lifestyle, opinion and more!

Be sure to check out our Contributors and Columnists archives!
Click on Photo or Story Title for more info
OurHometown.ca News Database Last Updated:
May. 20, 2019 @ 9:45 AM EDT