| | |
| --- | --- |
| | |
Derek Smith's first career NHL goal pushes Flames past Predators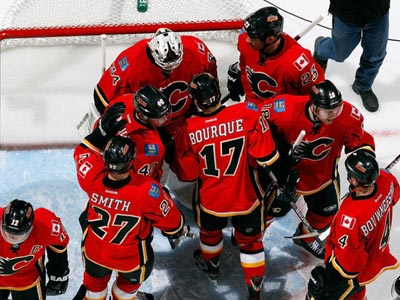 Calgary - November 30, 2011 - On a night that saw twenty seven year old defensemen Derek Smith record his first career national hockey league goal, the Calgary Flames opened there brief two game home stand with a 1-0 defeat over the visiting Nashville Predators. A methodical and slow paced game earned Miikka Kiprusoff his first shutout of the season as he managed to turn aside all twenty six shots thrown his way.

If you were expecting a fast paced, high scoring sixty minutes of hockey you certainly tuned into the wrong game as two of leagues lowest scoring teams went head to head Tuesday night. The key to success against the Nashville Predators is to put your team on the scoreboard first, as they are known as a team that will sit back on a lead in order to create scoring opportunities. Calgary managed to do just that, as Derek Smith opened the scoring in the dying moments of the first period when he ended a tic-tac-toe play that saw both Jarome Iginla and TJ Brodie record assists on the play.

A good first period of hockey from the home team was set on the backburner as Mark Giordano was forced to leave the game on an innocent enough looking play that saw him go down to block a shot, unfortunately as he was doing so he tweaked or pulled a muscle in his lower body. In considerably discomfort Giordano was unable to remain in the game, and at this point his status going forward is unknown. Hopefully it is just a minor tweak that will see him back in the lineup in no time, as the Flames can ill afford to have Giordano absent from the team for an extended period of time.

After a very stale twenty minutes of play in the second period, the Nashville Predators decided to open things up in order to create more offensively. This resulted in the most entertaining sequence of the game that saw both teams exchange chances throughout the final stanza. The Flames however did a great job at limiting the high rate scoring chances they allowed and for the most part kept the forwards of the Predators to the outside, making life for Miikka Kiprusoff that much easier. Both goalies turned in solid but unspectacular performances that allowed each team a chance to win on the night. Calgary managed to outshoot the Predators by a total of 29-26 and in doing so helped improve their record on the season to a mediocre 10-12-1.

The Flames will have a day to rest up before they suit up on Thursday night to take on the Columbus BlueJackets. I can finally say that I enjoy the way the line combinations have come together, I really like how the up tempo play of Glencross and Jokinen have rubbed of on #12. To me, Jarome Iginla has been much better in the past three to four games. I was skeptical at first when I saw that Jokinen and Iginla had been reunited to play alongside each other, but clearly Jokinen is not the same player he was two years ago when he was first brought into the organization. He may not be the offensive juggernaut he once was or that we expected him to be but he has however made a strong commitment to the defensive side of the puck. It is also very nice to see youngster Roman Horak be given the opportunity to play between both Alex Tanguay and Rene Bourque. As for Blake Comeau, I have been pleasantly surprised with the physicality that he brings on a shift to shift basis. To me that is something that this team desperately lacked and although he has not stood out offensively like his numbers in long island would suggest, his all around game has impressed.


Game Day Notes
After battling for over four years in the minor leagues, Derek Smith's 27 game NHL scoreless streak game to an end as he scored the game winning goal in tonight's game. It has been a long road for Derek as he was never drafted and has slowly worked his way up the ranks. However it is a little surprising it took so long for Smith to notch is first goal as he was one of the AHL's top scoring defensemen for the past two years.
Calgary improves there record to 9-0-0 on the season when leading after two periods.
Specialty teams continue to struggle as we are now ranked 27th in the league on the PP, and 24th in the league on the PK. If they want any chance at making the playoffs both areas need to improve dramatically.
Miikka Kiprusoff notched the 40th shutout of his career.


Three Stars
1. Derek Smith
2. Miika Kiprusoff
3. Jay Bouwmeester


8,374 Stories & Growing Daily...
To date OurHometown.ca has posted a total of 8,374 stories! News, sports, hockey, lifestyle, opinion and more!

Be sure to check out our Contributors and Columnists archives!
Click on Photo or Story Title for more info
OurHometown.ca News Database Last Updated:
Dec. 4, 2020 @ 11:51 AM EST