| | |
| --- | --- |
| | |
Late game rally sparks Columbus comeback, Flames fall in shootout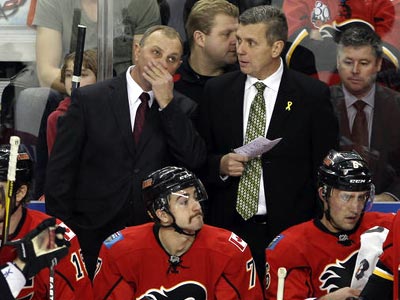 Calgary - December 2, 2011 - Everything seemed to be in place in order for the Calgary Flames to secure there third victory in a row as they found themselves up by a pair of goals late in the third period to the leagues worst road team. However an embarrassing final six minutes of play saw the Columbus BlueJackets score twice to extend the game to overtime. Columbus captain Rick Nash scored both the game tying and shootout winning goal as he helped to down the Flames by a 4-3 margin on Thursday night.

In a start that nearly replicated last week's game in Ohio, The Columbus BlueJackets found there skating legs early as they out played the Calgary Flames for the majority of the opening frame. For the sixteenth time this season the Flames managed to allow the first goal of the game as Antoine Vermette was left wide open in front of the net before depositing the puck past a sprawling Miikka Kiprusoff. The Flames responded to tie the game after being heavily outplayed for the first ten minutes of the game, when Lee Stempniak scored his sixth goal of the season at the 13:02 mark of the period.

The second period played out much differently as the Calgary Flames managed to control the tempo of the game for the entire twenty minutes of play. The team did a great job at closing the gaps and limiting the ice allowed for the opposition as they kept the Jackets to just three shots on goal. Due to the puck possession they earned through hard work, Calgary was able to generate offense at ease. They were rewarded very late in period as Rene Bourque broke through the middle of the ice and managed to blast a slapshot top corner over the glove of Curtis Sanford.

Feeling pretty good about the way they finished the second period, newly acquired Blake Comeau scored his first goal of the season and first as a Calgary Flame to extend the lead to two. For the next ten minutes or so the Calgary Flames did exactly what they had to do, they chipped pucks deep and kept a constant forecheck that did not allow Columbus an opportunity to get back into the game. That all changed in a hurry when Calgary was called for icing with less than five minutes to go in the game. Unable to win the ensuing faceoff, big defender Nikita Nikitin scored his first goal as a member of the Columbus BlueJackets to pull his team within one. With less than a minute to play in the game, a questionable call by the linesmen to call off an icing resulted in Columbus maintaining control of the puck deep in the Flames end before Nikitin set up his captain for a redirection in the slot to tie the game.

A highly entertaining five minutes of overtime flew by as Calgary had multiple opportunities to end the game. With extra time having solved nothing this game headed to a shootout. Rick Nash tallied the only goal of the shootout has he snuck a hard shot through the armpit of Kiprusoff. With the loss Calgary falls to 10-12-2 on the season and will look to get ready for back to back games against two division rivals in Edmonton and Vancouver starting Saturday night at Rexall place.

Calgary Flames Shooters/Columbus BlueJackets Shooters
Alex Tanguay -Miss
Jeff Carter - Miss
Lee Stemniak - Miss
Fedor Tyutin - Miss
Rene Bourque - Miss
Rick Nash - Goal


Game Day Notes
Mark Giordano was placed on injury reserve and is expected to miss 2-4 weeks ( Hamstring )
Calgary Flames have called up defensemen Joe Piskula from the Abbotsford Heat
This marks Calgary's first shootout of the season, last year the club led the league with 16 shootouts and finished with a 9-7 record in those outings.
Columbus forward Vinny Prospal recorded his 700th NHL point in the win.


Three Stars
1. Nikita Nikitin ( 1 Goal, 2 Assists, 27:21 TOI )
2. Rick Nash ( 1 Goal, Shootout winner )
3. Blake Comeau ( 1 Goal, 1 Assist )


8,374 Stories & Growing Daily...
To date OurHometown.ca has posted a total of 8,374 stories! News, sports, hockey, lifestyle, opinion and more!

Be sure to check out our Contributors and Columnists archives!
Click on Photo or Story Title for more info
OurHometown.ca News Database Last Updated:
Dec. 4, 2020 @ 11:51 AM EST