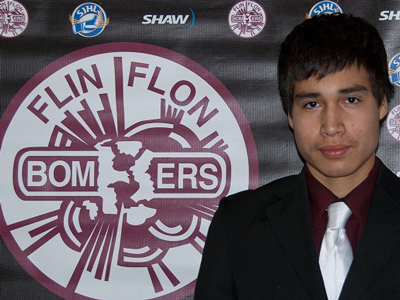 Edmonton - November 28, 2012 - Flin Flon Bombers netminder Devin Buffalo had to have been disappointed to have not heard his name called during the 2012 NHL Entry Draft. After all, isn't it every young hockey players dream to make it into the National Hockey League? Sure but only so many players get drafted and even fewer goalies get that opportunity.

Instead of allowing his dream of playing in the NHL to simply fade into a distant memory, the Wetaskiwin native has raised his game to a new level during the 2012-2013 season and is starting to turn heads with his performance during the first half of the SJHL campaign. Those who know Buffalo, are not surprised in the least, as the young man has overcome his fair share of obstacles to get to this point in his playing career.

After winning Rookie of the Year honours during his first season in a Bombers uniform, Buffalo was handed the keys to the car as Flin Flon's undisputed starter and he has been nothing short of brilliant in his eighteen appearances. He currently sits second among all goalies in the Saskatchewan Junior Hockey League with a stingy 2.16 GAA and an impressive .933 SV% but he sits atop the most important category...wins.

Heading into Tuesday night's action, he was sporting a 13-5-0 record with three shutouts, obviously a huge step forward from the numbers he posted during the 2011-2012 campaign. An 18-14-5 mark with a 3.36 GAA and a .909 SV% are respectable numbers but nothing more than that.

With their goaltender now playing at an elite level, the addition of defenceman Josh Roach into the mix and the continued development of both Riley Storzukand Brett Boehm, the Flin Flon Bombers currently find themselves on top of not only the Bauer Division but the entire Saskatchewan Junior Hockey League.

Things are starting to look up for the late bloomer, who has taken to not only improving his craft on the ice but also maintaining a high level in his academics. Devin was one of 500 honour students that was selected to take part in the Shad Valley program in 2010 and is hoping to continue both his studies and hockey career, with a university scholarship.

The Shad Valley program allows students to spend a month, living in residence, at one of the host university campuses across Canada. Buffalo was one of 50 students placed into McMaster University back in 2010 but unfortunately for him, he was forced into dealing with some unexpected personal tragedy, during his time at McMaster.

Devin not only had a cousin suddenly pass away in Hobbema but also had to deal with the death of his grandfather, shortly thereafter. Not exactly the easiest of situations for one to deal with, never mind a teenage kid that was a long way away from home. Luckily, he did have small support group he could lean on in Ontario and did end up attending his grandfather's funeral.

Few at McMaster expected him to return and complete the course but to his credit, the young man not only finished the program but was singled out at its completion, for his perseverance and character he displayed in dealing with his less than ideal situation. Pretty impressive stuff…especially for a sixteen year old kid.

When the time came for Buffalo to decide where he would play his junior hockey, he had three teams vying for his services but it was the Bombers who stepped to the plate and offered him a shot at the starters role. Though they were in a re-building phase, Devin jumped at the opportunity. Fast forward to the present day and Flin Flon have their sights set on not only taking the SJHL crown but making a run at reaching the 2013 RBC Cup in Summerside, Prince Edward Island.

The nineteen year old has already garnered interest from several university scouts, making his goal of earning a NCAA Division One scholarship a real possibility. As he continues to fine tune his game and hopefully help lead Flin Flon to a spot in the RBC Cup, the sky could be the limit for the talented puck-stopper.