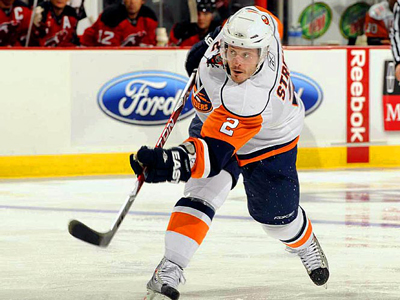 Edmonton - April 2, 2013 - With only hours remaining until the 2013 NHL Trade Deadline, General Manager Steve Tambellini and the Edmonton Oilers have remained nothing more than spectators during this year's so-called "frenzy".

Like nearly every other team in the league, Tambellini and company would love to get their hands on New York Islander blueliner Mark Streit.

While it is highly unlikely all of those teams would be interested in signing the veteran rearguard to the three year extension he is apparently trying to secure in Long Island, the Oilers are one that would love to ink the thirty-five year old to a multi-year pact.

One problem, the Islanders currently hold down the final playoff spot in the Eastern Conference and feel they have a legitimate shot at making the playoffs.

That being said, having Streit walk away for nothing via fee agency and missing out on qualifying for post season play, likely is a road New York would rather not go down.. With that in mind, perhaps Islanders GM Garth Snow and Tambellini could work out some sort of swap, which would allow both sides to remain in their respective playoff hunts but still keep an eye on the future.

From an Oilers standpoint, it looks as though their current 7-2-2 run has seen them lose their appetite for moving pending free agent Ryan Whitney. Over the last four weeks, the veteran blueliner has played some of his best hockey in well over two years. While the Isles were hoping to get Streit to sign an extension prior to the deadline, Edmonton has shown absolutely no interest in bringing back the former fifth overall selection of the Pittsburgh Penguins.

The Swiss rearguard obviously has connections to current Oilers and former Switzerland National Team head coach Ralph Krueger, making Edmonton a possible destination for the former ninth round pick of the Montreal Canadiens. He would easily slide into a top four role for the remainder of the season and be a good fit moving forward.

Neither organization can afford to look as though they have thrown in the towel on trying to qualify for the post-season, be it to their fan base or their dressing room, but perhaps a deal involving the two blueliners switching jerseys, could be favourable outcome for both teams.

From the Islanders point of view, Whitney would help fill the void created by moving Streit but the possible addition of let's say a second round pick, could entice Snow into contemplating such a move. Maybe it does or maybe it doesn't. Either way, it would have to be worth exploring.

As it stands, the only way Edmonton would consider moving Whitney, is if another team were to offer up a first round pick. The likelihood of New York acquiring a first rounder for Streit seems unlikely, making the thought of Whitney bringing one back, nothing more than a pipe dream.

At the end of the day, it will ultimately come down to what Garth Snow wants to do. Should he get that urge to move Mark Streit, in any sort of deal, you could bet the house on Steve Tambellini being among the most aggressive suitors.