| | |
| --- | --- |
| | |
The Toronto Maple Leafs have fired Head Coach Randy Carlyle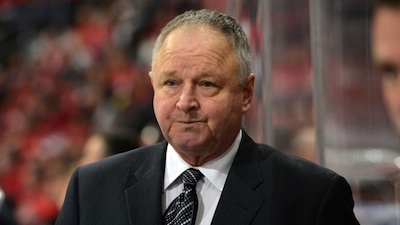 Randy Carlyle was relieved of his coaching duties after 188 games behind the bench for the Toronto Maple Leafs. Carlyle only coached 1 complete 82 game season with the Leafs.
Toronto - January 6, 2015 - It was announced Tuesday morning that the Toronto Maple Leafs had relieved head coach Randy Carlyle of his duties. According to General Manager Dave Nonis, the decision was made Monday, and Carlyle was informed of managements decision Monday night. For many Leaf fans this is what they had been asking for. Carlyle's time in Toronto had its highs and lows, but what it lacked was what resulted in Carlyle's eventual dismissal; consistency. In GM Dave Nonis's press conference Tuesday morning announcing Carlyle's firing, the lack of consistency was the common theme. Nonis spoke at great length to the fact that the team had performed well at times under Carlyle, however it was their inability to play at a high level with any consistency that led them to fire Carlyle.

Taking over for Carlyle will be Peter Horachek on an interim basis. Steve Spott will also remain with the team as an assistant. Horachek most recently served as an interim head coach for the Florida Panthers last season, before joining the Leafs as an assistant in the offseason. All indications point to Horachek being the coach for the foreseeable future, as the Leafs seem inclined to wait until the off season to re-evaluate their options behind the bench.

In the end this is no great surprise. Many pointed to the hiring of Horachek in the offseason as Shanahan bringing in a potential replacement for Carlyle should he be fired during the season. After last season's late collapse many were surprised by the fact that Carlyle was even the coach at the start of this season, never mind the fact that the Leafs actually gave him an extension after last season. With Carlyle now removed from the equation, it means that the season from here on out rests on the shoulders of the players, and management. If the Leafs continue to struggle, if they continue to be inconsistent, then Leaf fans should expect roster moves to happen fast. There will be a grace period I'm sure, as learning a new coach's system takes time. However if thing's do not improve, the Leafs could be a very active team leading up to the trade deadline.

It is worth noting that the Leafs still hold the last playoff spot in the East, and the season is far from over. It will be interesting to see if Horachek can right the ship, and help the Leafs hold on to that playoff spot. Horachek's first game as interim head coach will be Wednesday night against the Washington Capitals in Toronto.

Rob McPhee @RobMcPhee
---

---
---

---
3,470 Hockey Stories so far,
and Growing Daily!

#
PLAYER
GP
PTS
PPG
16&nbsp
Marner, Mitch&nbsp
27
32
1.19
34&nbsp
Matthews, Auston&nbsp
27
30
1.11
91&nbsp
Tavares, John&nbsp
27
27
1.00
88&nbsp
Nylander, William&nbsp
27
26
0.96
58&nbsp
Bunting, Michael&nbsp
27
17
0.63
44&nbsp
Rielly, Morgan&nbsp
20
16
0.80
15&nbsp
Kerfoot, Alexander&nbsp
27
11
0.41
64&nbsp
Kampf, David&nbsp
27
10
0.37
19&nbsp
Jarnkrok, Calle&nbsp
25
9
0.36
38&nbsp
Sandin, Rasmus&nbsp
27
9
0.33
Stat Database Last Updated:
Nov. 05, 2017 @ 7:11 AM EST